Skip to Content
We Answer 5 Dental Implants Questions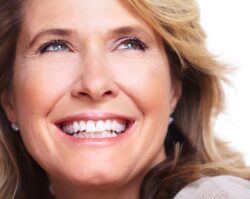 At 1st in Smiles, we've helped change many of our patients' lives for the better with dental implants. If you're considering replacing missing teeth with implants, we know you likely have many questions. The best way to get your questions answered is a consultation with Dr. Rick Barfield. However, we've answered some common dental implants questions for you here.
We hope reading through them will get you a little more familiar with implants and will prompt you to go ahead and schedule your consultation. This month is a great time to do it; The American Academy of Implant Dentistry (AAID) has designated August as Dental Implant Month.
When you're ready, call 1st in Smiles at 972-380-8105. If you've already spoken to another dentist about implants, remember second opinions are free at our office!
How Do Dental Implants Differ From Other Tooth Replacements?
Dr. Barfield embeds implants in your jaw, where your bone fuses around them in a process called osseointegration. This creates a sturdy foundation for a dental restoration. Depending on how many teeth you want to replace, Dr. Barfield will restore implants with a crown, a bridge, or dentures.
Because the implants stimulate your jaw the same way that natural tooth roots do, you'll avoid the bone loss that occurs after teeth are lost. This keeps your face from getting the sunken look that develops over time while wearing dentures. Implants also provide greater chewing force, so you will be able to still enjoy all of your favorite foods.
I've Heard Implants Are Expensive; Are They?
This is the dental implants question we hear most often! Implants cost more than other replacement teeth. We think the benefits of better oral health are worth it. However, it's important to consider the ongoing cost of other tooth replacements.
Specifically, wearing traditional dentures involves costs you won't have with implants. You won't need adhesive to keep dental implants dentures in place. Depending on the type of dentures you get with implants, you may not need special cleaning solutions either; you'll just brush and floss as you always have.
Because of the bone loss that occurs while wearing traditional dentures, you'll also need to periodically have the fit adjusted. This involves a process called relining, which may or may not involve an outside lab. Essentially material must be added to the lining of your dentures to ensure a snug fit. This should be done every other year or so and can cost several hundred dollars. We also suggest replacing traditional dentures every seven to 10 years. Implants, on the other hand, require no fit adjustments. Given this, the difference in lifetime cost for traditional dentures and dental implants may not be as great as you think.
When discussing the cost of dental implants with Dr. Barfield, be sure to ask about our price matching policy.
Can I Use Implants With My Existing Dentures?
We may be able to retrofit your existing dentures so that they can be attached to dental implants. Dr. Barfield can use as few as four implants to keep your dentures in place, with a procedure called an All-on-4. He may also be able to stabilize dentures with mini dental implants, which cost less and are less invasive than full-size implants.
Am I a Candidate for Implants?
The only way to know for sure is a consultation with Dr. Barifield. He'll assess your readiness for implants using high-tech tools like intraoral cameras and digital X-rays. To determine the right kind of implants, he'll consider factors including the number of teeth you're missing, the condition of your gums, your budget, and the density of your jawbone.
If your jaw lacks the strength to support dental implants, you may still have options. Dr. Barfield can perform a bone graft procedure, and/or he may be able to use mini dental implants instead of full-size implants. Your gums also must be healthy before you can receive implants. You may need gum disease treatment if you have infected or inflamed gums.
Are There Any Downsides to Dental Implants?
There are very few downsides to implants, and we think the advantages of implants outweigh them in any case. Depending on the type of implants we recommend, you may need to wait several months for implants to fully heal before receiving your replacement teeth. In many cases, though, you may be able to wear temporary restorations with your implants during the healing period.
Depending on the condition of your jaw and the type of implants used, you may also require a procedure to prepare your mouth for the implants. Dr. Barfield can perform:
Bone Graft – As already noted, this procedure adds needed strength to your jaw so it can better support implants.
Gum Graft – Without healthy gums, you won't be able to receive implants. A graft will restore the health of receding or damaged gums.
Sinus Lift – He'll make more room in your upper jaw with this procedure.
We're happy to answer any dental implants questions you have! Just call 1st in Smiles at 972-380-8105.