Skip to Content
Dentures / Partials / Bridges
Make Your Smile Whole Again With Dentures in Plano
Missing teeth can create all kinds of aesthetic and functional problems, like sagging facial muscles, inability to eat certain foods, and increased risk of oral health problems. Dentures in Plano are a reliable way to solve those problems.
Custom-Made Dentures Will:
Give you the choice of several options, so you can select the one that is most appropriate for your dental situation and your budget
Enable you to smile freely again, with a full mouth of teeth
Make it possible for you to enjoy your favorite foods
Since no two smiles are the same, we offer several different kinds of dentures. Dr. Rick Barfield is happy to explain them all and answer any questions you have during a consultation. To schedule one, call 972-380-8105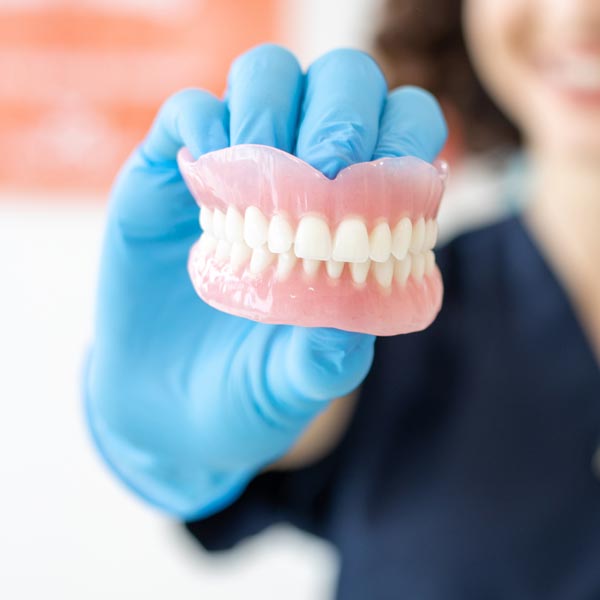 Implant-Supported Dentures Offer Many Advantages
If you're interested in a longer-term, more secure solution than removable dentures can offer, we may be able to support your dentures with dental implants. Implant-supported dentures prevent your replacement teeth from moving around. They provide many of the same benefits as traditional implants, including restoring your oral function to nearly the same level as your natural teeth.
Implant-supported dentures are best for patients who have enough bone to support them. They also work well for lower dentures, which are less stable than upper dentures. If your bone isn't strong enough for implants, Dr. Barfield may be able to strengthen it with a bone graft.
Traditional Dentures Are a Less-Invasive Option
Implant dentures aren't for everyone. You may prefer traditional dentures if:
You want a less expensive option
Your jaw isn't strong enough for implants, and you don't want a bone graft
You don't want to undergo dental implant placement
Traditional dentures replace all your teeth. They sit on your gums and are made to look like your natural teeth. If you weren't pleased with the way your teeth looked before, we may even be able to improve your appearance with dentures. We'll remove your remaining teeth, if necessary, and make a model of your jaw with the help of our digital X-rays.
We'll send this model to a lab that creates your custom dentures.  So that you aren't without teeth while your mouth heals, we'll give you an immediate, temporary denture. Once your tissue is completely healed, we'll fit you with your custom dentures. If you are not missing all your teeth, you can choose partial dentures instead. A partial denture is made of replacement teeth attached to a high-grade plastic base that resembles your gums. It attaches to your surrounding teeth or crowns we place over your nearby teeth to hold it in place. With traditional dentures, you'll need to visit us for regular checkups so we can adjust your dentures as needed. When you are missing your natural teeth, your jawbone and gums begin to shrink. This loosens your dentures or partials over time. We'll monitor the fit and reline or refit your replacement teeth to keep them comfortable. For dentures in Plano, call 972-380-8105.