Skip to Content
Spend Less Time in Orthodontic Treatment With Invisalign in Plano
If you wish your teeth were straight but don't want to spend years wearing unsightly and uncomfortable metal braces, Invisalign in Plano gives you a painless, invisible alternative. No metal mouth or orthodontist required!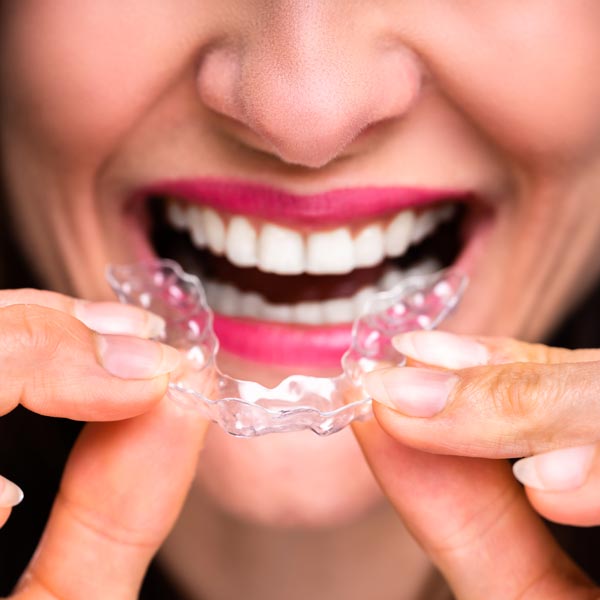 Invisalign Treatment Is Faster & Easier on Teeth Than Braces
Invisalign treatment for adults is usually just 12 months long – about half the time of traditional wire braces. Your visits for adjustments are also less frequent than those required for wearing braces, making Invisalign aligners especially convenient for patients with busy schedules.
Following treatment, you'll have no ugly stains or discoloration on your teeth, a common problem when wire braces are removed. Since it's easier to clean teeth with Invisalign aligners, you'll also be less susceptible to tooth decay and gum disease during your orthodontic treatment. You may even be able to use your Invisalign aligners with professional-strength whitening gel to whiten your teeth.
For Invisalign in Plano, call 1st In Smiles at 972-380-8105. Ask about our price-matching policy!
Braces Compared to Invisalign Treatment
Not all dentists offer Invisalign technology to straighten teeth, but Dr. Rick Barfield has used it to help countless patients get straighter smiles quickly and painlessly. The best way to see if you're a candidate for Invisalign aligners is a free consultation with Dr. Barfield. To schedule one, call 972-380-8105 today.
Nearly Invisible
You'll wear a series of clear, nearly invisible aligners to straighten your teeth. Adults especially love their low profile; who wants to wear wire braces at work or in social settings?
Convenient
Unlike braces, you can remove your clear aligners to eat and for oral hygiene. You can potentially save hours a week brushing your teeth, and you can eat whatever you want.
Customized
We use impressions of your teeth and special software to design a 3D model that's used to create your aligners. We can even give you a sneak peek at what your teeth will look after the procedure and tell you about how long your treatment will take!
Comfortable
There's no reason to be in pain from metal wires scratching the inside of your mouth and your cheeks. Your smooth plastic aligners are comfortable to wear.