Skip to Content
Receive Gentle Dental Care in Plano
At 1st in Smiles, you'll always receive gentle dental care in Plano. That includes a lack of lectures. If you've ever been lectured at the dentist, you know how bad it makes you feel. Our team supports and encourages you, never lectures you! We welcome your questions and want to get to know you and understand your needs. We'll make you feel at home whether it's been six months or six years since you've seen a dentist. We'll work with you to design a treatment plan that fits your dental needs, your lifestyle, and your budget.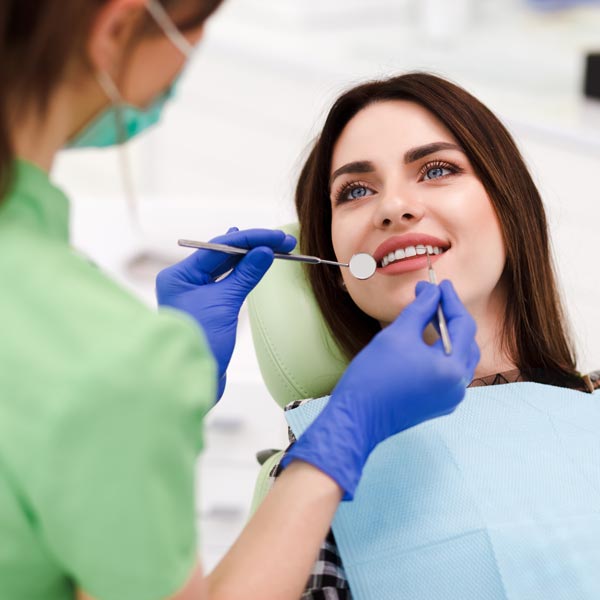 Put Your Dental Anxiety Behind You
No matter which treatment you're receiving, there's no need to ever feel anxious at our office. You can trust Dr. Rick Barfield, who has more than three decades of experience and advanced training in many areas of dentistry, to provide exceptional care. When necessary, he works with top specialists, like the periodontist who assists with dental implant placement or the doctor who helps diagnose sleep apnea.
We keep you comfortable during procedures with effective local anesthesia and amenities like TVs in our care rooms. You can also choose from three kinds of dental sedation if you need more peace of mind. There's no added charge for laughing gas, which works well for many procedures.
Call us today at 972-380-8105. We look forward to providing you with gentle dental care in Plano!
Find the Dental Services Your Family Needs
Every member of your family has different dental needs. From your cavity-prone child to your teenager with problematic wisdom teeth to your husband who snores all night, we provide all the solutions your family is ever likely to need. They include:
Smile Beautification
Transform your smile with cosmetic dentistry like dental veneers, Invisalign orthodontics, and teeth whitening.
Smile Restoration
Get your functional smile back with restorative dentistry like dental crowns, root canals, and dental fillings.
Smile Maintenance
Keep your teeth and gums healthy with services like dental exams, dental cleanings, and athletic mouthguards.
Teeth Replacement
Fill the gaps in your grin with dental implants, dental bridges, or dentures.
Teeth Removal
Our experienced dentist can extract teeth when needed, including wisdom teeth.