Skip to Content
Beautiful Smiles With Cosmetic Dentistry in Plano, TX
1st In Smiles helps patients achieve their dream smiles with corrective cosmetic dentistry in Plano, TX. We perform aesthetic dental treatments to improve the appearance and appeal of teeth and gums. Dr. Barfield has advanced training and years of experience performing cosmetic dental treatments, including teeth whitening, veneers, and beyond. Whether you want to correct the effects of staining, chips, or cracks, you can count on us to renew your smile and confidence.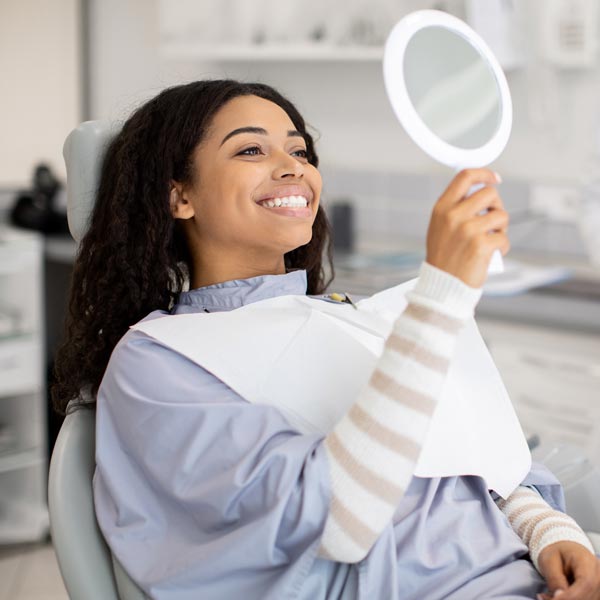 What Does Cosmetic Dentistry Do?
Your smile is one of the first things others notice about you. If your teeth or gums have imperfections, you've likely wanted to correct them for a long time. Dr. Barfield and our team will make you proud to show off your smile again. Here's what our cosmetic dental treatments do:
Straightening crooked and misaligned teeth
Hiding chips, cracks, and other tooth damage
Whitening teeth and eliminating stains and discoloration
Reshaping to unify your teeth's appearance
Removing excessive gum tissue and reducing inflammation
Improve Your Smile With Cosmetic Dental Treatments
Our cosmetic tooth solutions are intended primarily for enhancing tooth beauty. However, some of their additional benefits include improved oral health and function. We'll develop customized solutions that hide tooth flaws and imperfections and allow you to smile your best. From making your teeth's surfaces brighter to restructuring and reshaping them, we have the perfect solution. We'll help you choose one or more of the following cosmetic treatments to boost your smile:
Where Patients Feel Comfortable & Confident
At 1st In Smiles, we understand that a patient's oral health and appearance can be a sensitive topic. Many patients feel apprehensive about revealing their current cosmetic condition. Dr. Barfield and the team cultivate a welcoming, judgment-free environment. We're passionate about smiles of all kinds and want to help make them the best they can be. We aim to make our patients feel good at the office and free to express their questions and concerns.