Skip to Content
5 Reasons to Get Your Athlete a Custom Mouthguard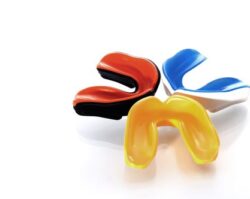 We take lots of things seriously in Texas – including cowboy boots, barbecue, and sports. Given the last item on the list, there's a good chance that someone in your family participates in athletics. Hopefully, they wear a mouthguard to protect their teeth. But their smile isn't as safe as it could be if it's not a custom mouthguard.
At 1st in Smiles, we're happy to fit the athletes in your family as mouthguards. Call us today at 972-380-8105 to make an appointment. In the meantime, see why custom-made sports mouthguards are superior to those sold in stores.
Better and More Comfortable Fit – An ill-fitting mouthguard is more likely to get dislodged during the action. It's also more likely to get left on the sidelines if your athlete doesn't like how it feels. Impressions of your family member's teeth are used to make a custom guard. It will stay securely in their mouth. It will also make it easier for them to breathe and speak while wearing it.
No Need to Boil Before Wearing – Store-bought guards require a "boil-and-bite" process to adjust the fit before wearing. Unfortunately, this rarely works very well. Not to mention, it's a pretty big hassle. Since your custom guard is made with dental impressions, no adjustment should be needed.
Can Protect Orthodontia – If your child wears braces or other orthodontia, your dentist will make sure the mouthguard protects the orthodontia along with the teeth.
Meet the ADA's Standards – The American Dental Association and the American National Standards Institute (ANSI) have standards for Athletic Mouth Protectors and Materials. Unfortunately, store-bought gear doesn't meet those standards. But the custom-made athletic mouthguards provided by your dentist do.
Backed by Our Expertise – We know exactly the right degree of protection your athlete will need for their sport – and we will make sure they get it.
Need a custom mouthguard? Call 1st In Smiles today at 972-380-8105 or contact us online to request an appointment in Plano, TX. We can also provide mouthguards that keep you from grinding your teeth at night and mouthguards that stop snoring and other sleep apnea symptoms.