Skip to Content
How to Get Beautiful Teeth for Wedding Season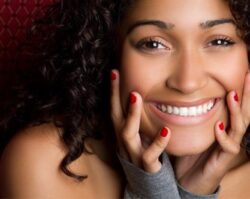 Is your wedding date coming up around the corner? Or maybe you have a few weddings to attend this season? Either way, we have your back at 1st in Smiles! We'd love to give you beautiful teeth for wedding season. Whether it's a minor change or a major, we have a wide variety of cosmetic treatments for you. You may consider:
Whitening Your Teeth – You can brighten your teeth with our professional whitening solutions. You can also get more permanent whitening with veneers.
Disguise Imperfections – Veneers can also cover chips, cracks, or stubborn stains. They're often considered instant orthodontics since they can close small gaps or fix overlapping teeth.
Straighten Your Teeth – If your wedding isn't until next year, you may consider starting your Invisalign treatment now. You'll get results in less time than traditional braces.
Reshape Uneven Teeth – If you have a pointy tooth or one with a jagged edge, our contouring procedure can reshape it. It's completely painless, since it won't impact your tooth nerves.
Get started today! Call 1st In Smiles in Plano, TX at 972-380-8105 or request an appointment online.