Skip to Content
Two Easy Fixes for Bad Teeth!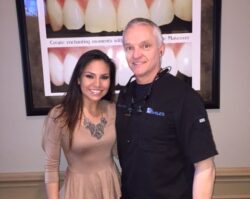 Welcome to our oral health blog!
At 1st In Smiles, we are your trusted source for comprehensive dentistry solutions. Hopefully you will find good, helpful information on this site. And then come in to see us to make it all happen!
Every month, we see our fair share of frustrated patients in our Plano, Texas practice. Each patient has their own special story to tell. Some have been here since birth. Others come from halfway across the world. When you show up at our doorstep, what we try to do first of all is listen to, not only your story, but also your dental concerns and laundry list of hoped-for improvements.
You'd be amazed by what some folks have to endure. In other words, you never have to be embarrassed by your chronic cosmetic issues with us.
The good news for you is that, whatever is going on in your mouth, we can help you improve the health and appearance of your smile with cosmetic dentistry.
Actually, at 1st In Smiles, we have two awesome solutions engineered to make your makeover quick and cost-effective.
In today's post we'd like to turn you on to the possibilities of dental bonding and porcelain veneers.
A Little Dental Bonding Produces Big Results
We are here to help. Accordingly, we hope that you will let us know if you ever have anything that is really bothering you in regards to the health and appearance of your teeth. If you are fed up with having a smile that holds you back personally and professionally, you might be interested in a little dental bonding.
What does dental bonding involve? At 1st In Smiles, dental bonding is a cosmetic procedure that we use to restore a wide variety of damage and stains by applying a composite resin (a safe, durable type of plastic) directly to your teeth.
Is it painful?
Nope!
Bonding is an extremely easy and effective way to reimagine your smile. When we are finished with you, this simple treatment will give you that much needed lift.
If bonding appeals to you, we can tell you all about it during your cosmetic dentistry consultation.
Porcelain Veneers Hide Years of Damage
We know that some folks have it harder than others. Still, no matter how bad things have become in your mouth, you will find that veneers are an extremely versatile cosmetic dentistry treatment.
Our porcelain veneers can be used to cover-up discolored teeth and badly damaged teeth in a gentle kind of way. They are comfortably placed on the front of the surface of your teeth, and are adhered to them with a powerful adhesive.
You can trust that this is a pleasant and painless procedure. And you will be astonished by the gorgeous new smile you'll be going home with.
Take Back Your Smile!
These two procedures are among the many things we can do to help. With dental bonding or porcelain veneers, you can quickly attain a better-looking smile!
Contact our Plano, TX office for more details!