Skip to Content
A Better Way to Treat Cavities!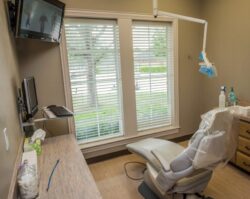 Hello and welcome to another March edition of our oral health blog. What brings you here today?
Are you…
…concerned about your oral health?
…worried about cavities?
…looking for a dentist in Plano, TX who can handle any problems you may be facing?
Great! Then you came to the right place. We look forward to getting better acquainted and to addressing the situation in your mouth.
Cavities, as you might already know, emerge when bacteria (that is fueled by sugar) takes hold of your tooth and creates a small decaying hole (the cavity) that will get bigger and bigger as time goes by. It isn't always your fault, so don't beat yourself up about it.
Here at 1st In Smiles, we can quickly and painlessly reverse the effects of tooth decay and restore the health of your smile, as long as the problem is detected early and treatment is not put off too long.
Not surprisingly, if you ignore the problem, it will only be worse for you. Root canals and extractions aren't ideal, as you can imagine. If it ever comes to that, we can help you get through it was painlessly as possible.
Don't worry, with us on your side, there is always an easier way. The way in which we handle simple cavities in our Plano, Texas office is by performing a dental filling procedure. This is the time-tested method for getting you back on the good road following an episode of tooth decay.
Essentially we dig out the decayed matter and fill it in with another material to prevent the decay from spreading further. In days of old, we would have used a mercury-heavy metal substance to stop the damage.
That was fine for the time. But not everyone liked the idea of having an unhealthy substance like mercury installed permanently in their mouth. Plus, it made for poor aesthetics. These fillings left grey metallic splotches on top of your teeth. If you've ever had one you know that this doesn't exactly enhance your smile! And it calls unwanted attention to your bout with cavities.
The good news is that times have changed at the dentist's office. It is now possible to restore the health of your smile without using any metal whatsoever. These days we use tooth-colored fillings that are made of composite resin, glass ionomer or ceramic. Sounds good, right?
You will love how the new-style fillings consist of tooth-colored (your tooth color!), biocompatible materials that are durable and discreet. Unlike the old-school version, our white fillings bond directly to your tooth structure and make it stronger.
Because we like to invest in new technologies at 1st In Smiles, you can now restore your oral health without sacrificing your smile.
How does that grab you?
Let Us Help You Reclaim Your Smile!
At 1st In Smiles, we want to be your partner in oral health. Our team will make it easy to restore the health of your smile. Just contact us to get it started.