Skip to Content
Invisalign Is a Great Way to Straighten Adult Teeth (Video)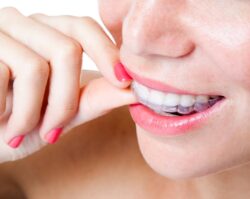 If you want to straighten adult teeth, you're probably not too happy about the prospect of wearing metal braces. You may worry about having to show a smile full of metal in your business and social activities. And you'd rather not worry about trying to clean food out of braces.
At 1st in Smiles we offer Invisalign to our patients. Many folks find Invisalign aligners a great way to straighten adult teeth. Since they're made of clear plastic and fit snugly over your smile, most people won't even notice you're wearing them. You can also remove them for meals and for brushing and flossing teeth, so it's easy to keep teeth clean.
Watch this video to hear former volleyball star and model Gabby Reece discuss her experience with Invisalign. Then call our Plano cosmetic dentist, Dr. Rick Barfield, at 972-380-8105 if you're interested in wearing aligners to straighten adult teeth.