Skip to Content
Use Your Tax Refund for Smile Improvements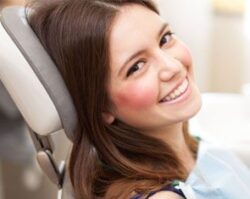 If you're the procrastinating type, you are probably trying to recover from your last-minute filing of your tax return earlier this month. If you were one of the proactive people who got your return done well before April, you may already have gotten a refund. If so, you may be trying to decide how to spend it. May we suggest smile improvements?
Unlike a vacation or a new outfit, smile improvements will yield benefits that last a lifetime:
No more avoiding social situations because of the way your smile looks
No more dentures that slip or even become dislodged
No more closed-mouth smiles to hide damaged or missing teeth
The ability to eat whatever foods you like
A full smile that looks and feels natural
Prevention of further problems
Greater confidence in your romantic, social, and work relationships
Improved oral health
With or Without a Refund, We Make Payment Simple
At 1st in Smiles, we have many cosmetic and restorative dentistry treatments that will get your smile into great shape! We can even save you time and money with our price matching policy. Ask our front desk about it the next time you visit our Plano, TX office. We also offer several flexible payment options, including the option of paying half your cost upfront and spreading out the remaining amount with three monthly payments.
The best way to determine which of our procedures will work best for your smile is a consultation with Plano cosmetic dentist Dr. Rick Barfield. To request one, call 1st In Smiles at 972-380-8105.
Correct Smile Imperfections With Cosmetic Dentistry Procedures
We offer many cosmetic dental procedures to correct smile flaws. They include:
Dental Veneers – These versatile dental restorations can cover all kinds of imperfections, including chips, stains, gaps, and worn-down teeth. You have the option of receiving Lumineers, a kind of ultra-thin veneer that will require the removal of very little, if any, enamel from your teeth.
Invisalign – If you want straight teeth but you don't want braces, you can get Invisalign. Clear plastic aligners are practically invisible and they're convenient too, because you can remove them for meals and for oral hygiene. Invisalign consultations for free, so you have nothing to lose while exploring this orthodontic option.
Teeth Whitening – Brighten your smile with one of our quickest and easiest smile improvements. An in-office treatment takes about an hour. Or you can choose at-home treatments; we'll provide you with professional-strength gel and custom-made trays.
Teeth Recontouring – We can fix oddly shaped or slightly chipped teeth with this easy treatment, or make teeth of different sizes and lengths look more uniform.
Gum Reshaping – We'll remove excess gum tissue so your smile looks less "gummy."
Restorative Dental Care Repairs Damaged Teeth
If your smile needs more than surface improvements, we offer restorative dentistry procedures to improve both the appearance and the function of your teeth. Depending on the kind of damage your smile has suffered, we may recommend repairing your damage with:
Tooth-colored Fillings – If you have cavities, we'll fix them with fillings made of tooth-colored composite so your smile looks completely natural. No more ugly gray splotches!
Dental Crowns – A crown can fix a break, crack, or severe decay. It can also conceal a stained or misshapen tooth.
Root Canal Therapy – Infection can eat away at your teeth from the inside out, resulting in the need for an extraction. With a root canal, we can keep your tooth intact.
Replace Missing Teeth With Dental Implants or Other Options
Nothing affects your smile as much as missing teeth do. We offer numerous ways to replace them, several of which involve dental implants. They are an incredibly versatile way to replace teeth, because they can fill smile gaps left by a single tooth or several teeth. They can even secure dentures to replace all of your teeth.
Thanks to our dental technology and Dr. Barfield's skills, we offer several kinds of implants that aren't available at many dental practices. For example, if your jaw is too weak to support full-size implants, you may still be able to get mini dental implants. Dr. Barfield can also perform an All-on-4®, a procedure during which he attaches a complete arch of replacement teeth to just four implants.
No matter which kinds of implants you receive, your smile will look natural and perform like it did before you lost teeth. If implants aren't right for you, you can choose:
A dental bridge, to replace anywhere from one tooth to several teeth in a row
Traditional dentures, full or partial
We offer so many options for smile improvements in Plano, it can seem a little overwhelming! Dr. Barfield is happy to discuss your situation during a consultation. He'll review all of the possible treatments with you, so you can choose the one(s) that will work best for your situation.
To make an appointment with him, call 972-380-8105.