Skip to Content
5 Reasons Invisalign Orthodontics May Be Right for Your Smile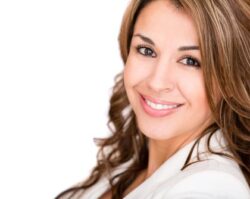 Straightening crooked teeth not only makes your smile look better, it improves your oral health. That's because it's easier to clean straight teeth than crooked ones. Even so, you may resist the idea of braces. Few people like the idea of a mouth filled with metal brackets and wires. The good news is, Invisalign orthodontics can give you a straight smile without all that hardware!
The best way to see if you're a good candidate for Invisalign is a FREE consultation with Dr. Barfield at 1st in Smiles. To schedule one in our Plano, TX office, call 972-380-8105 today.
In the meantime, see some of the reasons Invisalign treatment is so popular:
Speedy Results – With braces, it can take up to three years to straighten teeth. Invisalign is typically much quicker, with most adult patients completing their treatment within 12 months.
Won't Stand Out in Your Smile – It's hard not to feel self-conscious if you're wearing metal braces. In contrast, because they are made of transparent plastic, Invisalign aligners aren't easy to detect in your smile. Lots of folks won't even notice them!
More Comfortable Than Braces – The lack of metal hardware also makes aligners more comfortable than braces. They won't rub against your mouth, creating sore spots.
Won't Limit Your Diet – It's a pretty big hassle eating with braces, since many kinds of foods get stuck in them and are then difficult to remove. With Invisalign, you simply remove your aligners for meals. Eat whatever you want, with no worries!
Simple Oral Hygiene – Braces also make brushing and flossing a chore, even with special equipment like a floss threader. Taking your aligners out for oral hygiene makes it easy to keep your teeth clean.
Interested in Invisalign? Call 972-380-8105 now for a consultation.