Skip to Content
Inspire Good Oral Hygiene Habits in Your Child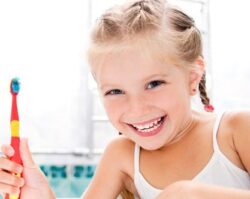 We know how important your child's smile is to you! You want them to have healthy teeth and gums for their entire life. That's why it's so important to teach them good oral hygiene habits.
Today we're sharing a video made by Kids Learning Videos that will show your child a fun video they can watch while they brush their teeth! It will encourage them to brush their teeth for two minutes, the ideal duration of time they should spend on brushing.
Make sure you also bring your child in for their cleaning and exam! If it's their first time, we'll do a happy visit. If they are old enough, we'll do a thorough cleaning and exam that will keep their smile happy and healthy. 
Help your child practice good oral hygiene! Schedule their cleaning and exam today by calling 1st In Smiles at 972-380-8105 for an appointment in Plano, TX.