Skip to Content
Why You Need a Mouthguard for Playing Sports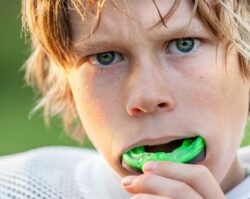 Whether you play casually or on a team, you need to protect your mouth, just like you protect your body. By wearing a mouthguard for playing sports, you are protecting your teeth, lips, and tongue from serious injury.
Your mouthguard is essential if you play any kind of contact sport, or if there is any potential accidental contact (like an elbow to the face!). It'll also help you if you fall down, that way you don't have to worry about damage to your teeth when you hit the ground.
Play sports safely this season! Call 1st In Smiles today at 972-380-8105 or contact us online to request an appointment in Plano, TX.