Skip to Content
Your 21st Century Permanent Teeth Replacement Options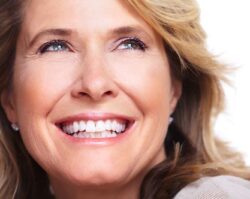 Dentures have been around for centuries. Even America's first president, George Washington, wore dentures. But just because something has been around for a long time doesn't mean that it's the best way to solve a problem. After all, horse carriage manufacturers were unable to convince the American public that automobiles were only a fad.
If you're missing most or all of your teeth, you no longer have to settle for dentures. Missing teeth and/or ill-fitting dentures can do a number on your self-confidence. Maybe you cover your face with your hand when you speak or smile. Or maybe you look on in horror as your dentures fall completely out of your mouth during a meal.
At 1st In Smiles in Plano, TX, we believe that no one should have to live with the shame of missing teeth or ill-fitting dentures. For that reason, we are proud to offer the system of All-on-4 dental implants to give you a brand new smile. We've used this cutting edge dental technology to improve the lives of hundreds of patients, giving them back the confidence they need to smile. Not to mention the chewing ability they need to eat their favorite foods!
In today's post of our dental health blog, we're going to look at All-on-4 dental implants and how they've revolutionized total smile makeovers. We'll look at the technology behind All-on-4 dental implants and what you can expect from your dental implant procedure. Let's get started!
The Technology Behind All-On-4 Dental Implants
There are many types of dental implants but the All-on-4 system is unique because it is intended to replace your entire set of teeth. This system uses a series of four carefully placed dental implants to secure a series of dental bridges. But what is a dental implant? A dental implant is a titanium (and biocompatible) post that acts as an artificial tooth root. Dental implants are surgically embedded into your jawbone and then used as a foundation for your dental restoration.
Traditional dental implants require a jawbone dense and deep enough to secure the titanium post. However, the longer you wear dentures, the more your jawbone shrinks. This can make it difficult or impossible for longtime wearers of dentures to undergo traditional dental implants. But many patients who would otherwise not be a candidate for traditional dental implants may still benefit from All-on-4 dental implants because they are inserted at an angle.
How Are All-On-4 Dental Implants Placed?
Placing All-on-4 dental implants, or any kind of dental implant, requires careful planning. At 1st In Smiles in Plano, TX, our comfortable office is filled with the advanced dental technology needed to perform this restorative dentistry procedure. Plus our decades of skill and expertise mean you can rest comfortably during your procedure because you know you're in good hands.
As the name implies, All-on-4 dental implants require four dental implants to be placed into your jawbone. If you were to restore your smile with traditional dental implants, you would need to have many more dental implants placed to support your new permanent teeth. But with All-on-4 dental implants, we place two implants in back at an angle and two more in front. This allows for greater support with fewer implants required, often saving you time, money, and need for invasive bone grafts.
Once your implants are healed, we secure them to your permanent replacement teeth. Your new smile will beautiful, no one will be able to tell that they are not your natural teeth! Plus you'll be able to eat all of your favorite foods again – even apples and corn on the cob! The entire process is quite comfortable thanks to the sedation dentistry options at 1st In Smiles in Plano, TX.
Make an Appointment
Are you ready to love your smile again? If you are missing most or all of your teeth, or are a long time wearer of dentures, All-on-4 dental implants may be what you need to get your smile back. So contact 1st In Smiles in Plano, TX, to learn more about this exciting option for your smile. You can each our office at  972-380-8105 or by filling out our online appointment form.