Skip to Content
8 Ways We Can Help You Conquer Dental Phobias and Anxiety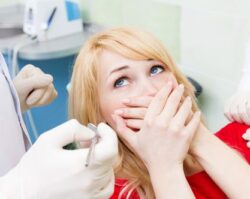 What do you think of when you hear the word "dentist"? Do you picture a kind, gentle dentist working to restore your oral health? Or are you one of the millions of Americans who suffers from dental anxiety or dental phobia?
Being scared of the dentist is nothing to be embarrassed about. But avoiding dental care can cost you your smile! At 1st In Smiles in Plano, TX, we're proud to offer sedation dentistry and various comfort amenities to help you conquer your fear of the dentist.
So in today's post of our dental health blog, we're going to look at 8 easy ways we can help you conquer your dental phobia. Let's get started!
1. A Kind and Caring Staff
At 1st In Smiles in Plano, TX, we treat you like more than just a patient. Our top concern is always your satisfaction and comfort. When you're a patient here, you're a member of our extended family. We'll answer all your questions, address your concerns, and explain all your treatment options so you have a better understanding of your oral health.
2. A Private and Comfortable Treatment
For many nervous patients, a little bit of privacy can go a long well towards making them feel more comfortable. So we'll protect your privacy when we discuss your oral health and your treatment options. During your treatment, we offer semi-private operatories so you have your own space. You can even watch TV or listen to the radio during your treatment.
3. Extended Appointments So You Don't Feel Rushed
Some nervous patients prefer extended appointments when undergoing their dental care. A longer appointment gives us a better opportunity to answer any questions you may have and address all of your concerns. You can even take breaks during the treatment if needed. If you need several treatments performed, we can often do so during one extended appointment.
4. No Lectures About Your Oral Health
Some patients are simply worried about being lectured about their oral health. That will never happen at our comfortable and modern office! We strongly believe that dental care is best when it's both lecture-free and guilt-free. So we'll never judge you or guilt you into treatment. We only care about helping you get a healthier smile.
5. Flexible Payment and Financing Options
One of the most common dental fears, is a simple fear that it's unavoidable. We never want our patients to avoid dental treatment for this reason, as avoiding dental care can often turn a small oral health problem (like a minor cavity) into a much larger problem (like an infected tooth). That's more money out of your pocket in the long run! So we're proud to offer flexible payment plans and no-interest financing to help you get the care you deserve!
6. Nitrous Oxide Sedation for Dental Jitters
Nitrous oxide sedation, also known as laughing gas, is a wonderful option if you have some minor dental jitters. With nitrous oxide sedation you breathe in a safe mixture of nitrous oxide and oxygen during your treatment. This sedation allows you to have a happy, almost floating feeling during your treatment. Plus the sedation wears off right after your treatment, so you can return to work or school if needed.
7. Oral Sedation for Dental Anxiety
For more serious dental anxieties or phobias, your dentist may recommend oral sedation. Oral sedation provides a stronger sedative effect than nitrous oxide sedation. We prescribe a medication (in pill form) for you to take before your treatment. Then you sit back and relax while we restore your oral health. You may not remember your entire procedure, but you'll be awake during the entire treatment and able to communicate with your dentist as needed.
8. IV Sedation for Lengthier Dental Treatments
We also the strongest form of sedation dentistry available: IV sedation. As the name implies, IV sedation is administered intravenously during your treatment. IV sedation is great choice if you need to undergo a lengthier treatment, such as a dental implant procedure, or need to undergo several treatments during one appointment.
Make an Appointment
Are you ready to conquer your fear of the dentist? Then do it in the most comfortable way possible at 1st In Smiles on Plano, TX. Our sedation dentistry options and comfort amenities will make you feel comfortable and relaxed. Learn more by scheduling a consultation by calling us at 972-380-8105 or by filling out our convenient online appointment form.