Skip to Content
Professional Teeth Whitening Is Easy and Effective in Plano, TX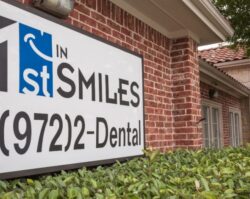 Would you like to brighten your smile in time for Spring? Great! Here's the deal: depending on your current needs and budget, Dr. Barfield can set you up with one of our two great dentist-directed teeth whitening solutions: Opalescence in-office whitening or our at-home whitening trays. Whichever way works best for you, you can rest assured that your professional teeth whitening procedure will be safe, dependable, and very effective. Keep reading to hear all about the possibilities, and then be sure to follow up and schedule your cosmetic dentistry consultation in our Plano, TX dentist's office!
Professional Teeth Whitening Is More Popular Than Ever
Just getting older will darken your teeth, and your daily dose of coffee (or tea or soda or wine) isn't helping matters. Other things such as chocolate, richly colored foods, and certain medications can also cause discoloration. Whatever the cause, there's no need to let your yellow teeth leave you feeling blue.
1st In Smiles understands that teeth whitening is not a one-size-fits-all situation. That's why we customize your whitening routine to insure that you'll get the brightest and smile with the least sensitivity, all achieved under the supervision of an experienced cosmetic dentist.
And we only use the highest quality materials to get the job done. Opalescence is a trusted whitening system that relies on advanced technology to give you the best results possible.
In-Office Opalescence Teeth Whitening
The dentist you already know and trust (Dr. Barfield) knows your teeth better than anyone else. That's why letting a professional whiten your teeth in our office is always your best bet!
Like we said, at 1st In Smiles, we use Opalescence whitening products in conjunction with ultraviolet light to achieve your whitest possible shade in just about an hour of your day.
Our in-office whitening protects your sensitive gums, too, so you'll experience little or no irritation. As an added bonus, we will give you some take-home trays so that you can maintain your stunning new smile with touch-ups at home, as needed.
Opalescence Teeth Whitening Take-Home Trays
If you'd prefer to whiten your teeth around your own timetable or need to opt for a somewhat less expensive solution, we offer Opalescence at-home teeth whitening trays in two different strengths. This take-home dentist-guided teeth whitening option is not at all like those lackluster DIY kits you will find at the supermarket.
To jumpstart the process, we'll take a mold of your teeth and use it to make custom bleaching trays that fit your unique teeth perfectly. Then 1-2 days later, your trays, bleaching gel, and instructions will be ready for you to take home. You'll simply wear the trays on your teeth for a few hours each day. After several consecutive days of use, you'll notice dramatic results in your smile, and so will everyone else!
You Make the Call!
If you are interested in learning more about our our professional teeth whitening, call us at 972-380-8105 or fill out our online form to set up a teeth whitening consultation.
By the way, 1st In Smiles has a special "whitening for life program" to thank you for being our loyal patient! So, make sure you ask about it when you call!