Skip to Content
Mini Dental Implants Are Easy in Plano, TX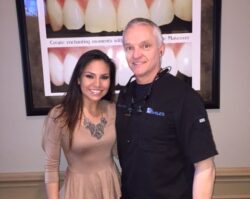 Welcome to the 1st In Smiles blog! Thanks for checking out our site. What brings you here today?
Are you…
…plagued by tooth loss as an adult?
…tired of slippery dentures?
…embarrassed by the situation in your mouth?
…concerned about the cost of standard dental implants?
…searching for a dentist in Plano, TX who can offer a better solution?
Then relax! We've got you covered when it comes to restorative dentistry solutions!
The sad reality is that losing teeth is always going to be a traumatic, embarrassing experience. And the nightmare only gets worse until the situation is adequately addressed. Adult tooth loss can negatively impact your appearance, your health, and your happiness if a good solution is not sought sooner than later.
Fortunately, replacement options for teeth have only gotten better over the years. These have included dentures, implants, and what not. That's all well and good. But, today, we would like to introduce you to a more specialized solution that we can provide for the right candidates: mini dental implants.
Mini Dental Implants Are a Big Improvement
Mini implants are, as the name implies, on the small side! And, in all seriousness, the only real difference between conventional dental implants and mini dental implants is just the size.
It turns out that Mini dental implants are several millimeters smaller in diameter than regular dental implants. Still, both of these styles of implants are made from titanium that organically fuses to your jawbone through a process known as osseointegration. They will function just like real teeth and help you get back on-track fast. Awesome, right?
This treatment is commonly referred to as denture-retention implants. That's because mini dental implants are most often employed to stabilize bottom dentures. That said, the smaller-diameter implants can be used in other areas of your mouth. We realize that many patients are not well-suited for traditional dental implants or find them to be cost-prohibitive.
Unlike standard dental implants, our mini dental implants for dentures can be placed for patients who have a thin jawbone as it will not necessitate major oral surgery.
The takeaway is that mini dental implants can provide us with a great way to stabilize your dentures and preserve your jawbone, giving you a more youthful look, while allowing you to eat all the healthy foods you love.
How Does the Procedure Work?
We will give you the long version of how it all works during your consultation. For now, just know that in order to place mini implants, our dental team will create a detailed treatment plan with you, incorporating our latest state-of-the art dental technology to insure the greatest implant success possible.
Around here we invest heavily in newfangled technology. Our intraoral camera can show us enlarged, detailed images of the inside of your mouth in real time, which not only helps us get an accurate picture of your mouth but also allows us to detect any disease or infection that we must treat before placing your implants. Amazingly, our digital X-rays will help show us the condition and density of your bone structure in just minutes.
Ready to put the transformative wheels in motion?
Learn More, Get Started!
We feel your pain and we hope that today's blog post has inspired you to reclaim your life. If you're interested in learning more about how mini dental implants can improve your smile with shorter treatment time and lower bills, let us know!
You can call our Plano office at 972-380-8105 or contact us online for more details. Don't forget to ask about our convenient payment options!