Skip to Content
How to Introduce Your Child to the Dentist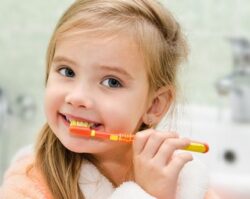 If you've got a toddler, it gets tough to keep track of all of their "firsts" – first full sentence, first haircut, first trip to school. While we admit we're a little biased, we think the first visit to the dentist's office is an especially important one. After all, it may affect how they feel about dental care for many months or even years!
We have many youngsters visit us for their first dental visit, so we've learned what makes them go well. For a pleasant experience, try our tips for how to introduce your child to the dentist.
If you have any questions about our tips or need to schedule an appointment for your child, call our Plano, TX office at 972-380-8105. Remember, if your child's introduction goes well, they likely won't avoid routine dental care as they get older. Conversely, a bad experience can create anxiety that may last for years.
Introduce Your Child to the Dentist With a "Happy Visit"
We suggest making your child's first early visits more about getting to know us and becoming familiar with our office. We'll use child-tested techniques to examine them, like having them help us count their teeth. We won't do anything to make them uncomfortable, and we'll work at their pace. The first visit will be happy for mom and dad too. We won't charge you for the exam; you'll only pay for any treatments your child receives.
Minimize Distractions
It's best to leave young siblings at home, if possible. But bring along an older sibling, spouse, grandparent, or friend to help introduce your child to the dentist. That way, you'll be able to more easily focus on speaking with Dr. Barfield. If it's your first visit, go ahead and download our new patient forms so you can fill them out beforehand and bring them with you. With that task already done, we'll be able to get you in to see Dr. Barfield more quickly.
Start With a Happy Child
Schedule your child's visits at a time when they are well rested and in a good mood. If your child is a "morning person," you're in luck; our office opens at 7 a.m. Monday through Saturday. If evenings are more convenient, we're open until 6 p.m. on Monday and Thursday. Feed your young child before your appointment so they won't get hungry and cranky. One caveat: please don't give snacks immediately before you see Dr. Barfield, as food residue can make it difficult to examine your child's teeth.
Keep Their Teeth Healthy
Visits will be more enjoyable without dental fillings or other treatments your child will probably find unpleasant. So it's important to keep their teeth as healthy as possible. Try these tips:
Make sure they brush and floss every day. Ideally, they'll brush twice a day, for two minutes both times. To get in the full two minutes, download a two-minute song they like and play it for them while they brush.
Limit sugary snacks. When you can, make them part of a meal instead of a standalone treat. If your child wants candy, choose chocolate instead of sticky or hard candies. Chocolate melts quickly and is easy to remove from teeth, so it's less likely to result in cavities.
Choose drinks other than soda. Since it has lots of sugar and acids that eat away at tooth enamel, soda is damaging to your child's smile. Water is the best choice for your child's smile, but almost any beverage is better than soda.
Consider preventive dental care. Dr. Barfield may recommend treatments with fluoride and/or dental sealants to help protect your child's teeth from cavities. Both are painless and only take a few minutes.
Both you and your child should visit us every six months for exams and cleanings. We'll help keep your child's teeth cavity-free by removing plaque from their teeth that they miss when brushing at home. We'll also check on the development of their teeth, to ensure they are coming in properly.
Call 1st In Smiles in Plano, TX today at 972-380-8105 to introduce your child to the dentist, or contact us online to schedule an appointment.