Skip to Content
How All-On-4 Dental Implants Can Restore Your Smile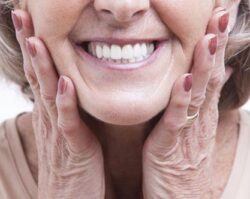 Have you mastered the closed-lip smile in photographs because you're embarrassed to reveal what's underneath?
If you're suffering from a mouthful of missing or damaged teeth, 1st In Smiles in Plano, TX can help restore your smile and your confidence with an innovative treatment option called All-On-4® dental implants. It'll give you all the benefits of implants — security, durability, and comfort — for a fraction of the cost and recovery time.
Ready to dramatically makeover your smile? Give the dental professionals at 1st In Smiles a call today at 972-380-8105 to schedule a consultation.
What You Can Gain From All-On-4 Dental Implants
More and more adults are turning to dental implants for a long-lasting solution to missing teeth.
A dental implant is a titanium post that acts as an artificial root when inserted under your gums, to which we affix some sort of prosthetic — like a crown, bridge, or dentures. Implants hold a lot of promise for folks who are missing most or all of their teeth because they provide more secure and long-lasting results than traditional dentures, which are usually held in place by a denture adhesive.
But if you're missing all your teeth, the idea of receiving more than 30 implants for a full mouth restoration can seem intimidating. Plus, many people find they don't have the bone density to support a mouthful of implants.
That's why All-On-4 is a great alternative. It's minimally invasive while still offering the security of implants. In fact, 98 percent of patients who have undergone an All-On-4 dental implant procedure say they would recommend it to others.
If you're suffering from severe damage to multiple teeth, or if you currently wear dentures but are unhappy with them, All-On-4 can give you the smile you deserve. Call 1st In Smiles at 972-380-8105 today to schedule an appointment. You can also fill out our convenient online form.
How All-On-4 Works
The treatment consists of a full upper- or lower-arch dental prosthesis secured to your jaw using only four dental implants. Placement is key with these implants. Instead of placing the implants vertically, as you would with a typical implant, we place the back two implants at a slight angle for an All-On-4 procedure. This increases the contact the implant has with quality bone, ensuring the security and longevity of the implants.
With All-On-4, you'll see a dramatic transformation in no time. On the day of your implant placement procedure, you'll be able to walk in without teeth and walk out with a full set. You'll wear this temporary prosthetic until your jaw fully heals. Then, we'll install a beautiful, brand new set of replacement teeth that with proper care will last for years.
After your procedure, upkeep is simple. Just practice healthy dental habits — regular brushing, flossing and dental exams — as you would your natural teeth. In fact, about 95 percent of patients experience 10 years of success after their All-On-4 procedure!
It'll Change Your Life
Years of decay and missing teeth are not only a cosmetic inconvenience; they can cause pain and discomfort that prevent you from enjoying the foods and pastimes you love.
With All-On-4 dental implants, you don't have to worry about ill-fitting dentures that slip when you eat or speak. What you get instead is a smile that looks and feels natural, so you can regain your confidence.
At 1st In Smiles, we offer sedation options to ensure that you are as comfortable during your implant placement procedure as you are in the months and years to come. We can provide three levels of dental sedation:
Nitrous oxide. Also known as laughing gas, nitrous oxide is fast-acting. Within a few breaths from a mask, you'll feel a sense of euphoria that will last throughout the procedure. It also wears off quickly.
Oral sedation. With oral sedation, we'll prescribe a pill for you to take at a certain amount of time before your appointment. Because the effects are stronger and long-lasting than nitrous-oxide, you'll need to arrange a ride to and from our office.
IV conscious sedation. With this form of sedation, you'll remain in a dreamlike state. You won't feel a thing, and you won't remember the procedure afterward. As with oral sedation, you won't be able to drive yourself home after the appointment.
Beyond sedation, our caring staff will also go the extra mile to make you feel at home — whether you need questions answered, a blanket to keep you warm, or relaxing music to ease your stress.
So what are you waiting for? A new smile is within reach, and the team at 1st In Smiles wants to help. Schedule an appointment today by calling 972-380-8105.