Skip to Content
Change Your Life With a Dental Implants Procedure This Summer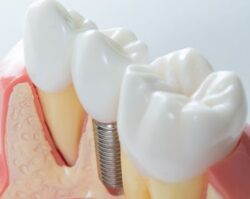 Perhaps no dental treatment changes your life as much as a dental implants procedure. That's true any time of the year, but especially in summer. If you need a reason to get implants, we've got a bunch of them, some of which we've highlighted for you here.
To schedule a dental implants consultation in our Plano, TX dentist office, call 1st in Smiles at 972-380-8105. Unlike some dentists, Dr. Barfield both places and restores implants. So you'll be able to get your dental implants procedure in one place, from start to finish. This saves time and, often, expense.
Here are three key ways dental implants can change your life for the better this summer.
Enjoy Favorite Summer Foods With Implants
If you've got missing or damaged teeth, you probably don't enjoy cookouts as much as you once did. If you've got dentures, you likely avoid some staples of the summer cookout like corn-on-the-cob, barbecue chicken, ribs, and juicy steaks. It's difficult at best to eat those kinds of foods with dentures. It's hard not to worry about your dentures slipping out of place or even becoming dislodged.
If your dentures are secured with dental implants, they won't go anywhere! That's because implants are embedded in your jaw where the bone actually grows around them, in a scientific process called osseointegration. So your dentures aren't just resting on your gums and relying on suction to stay in place. They're securely attached to your implants.
Social Events More Enjoyable With Dental Implants Too
With a calendar full of special occasions like vacation, weddings, graduations, and reunions, there are plenty of opportunities to make memories – and to take photos to help preserve them. If you've got dental damage or missing teeth, you're probably wearing a closed-mouth smile in photos. And you may find yourself hiding your smile behind your hand when meeting new people, or even getting reacquainted with old friends.
You'll feel more confident and worry less about awkward moments if your smile looks and feels natural. With dental implants, you'll want to show off your smile again!
Your Oral Health Will Be Better With Dental Implants
Improved oral health is perhaps the biggest benefit of dental implants. As noted, with the ability to eat more foods, you'll be able to make more nutritious choices that you may have had trouble chewing before. It's also easier to keep your teeth clean, because with implants you won't need to make any changes to your oral hygiene routine. You can just brush and floss as before.
The greatest health advantage, though, is that biocompatible dental implants in fuse with your own jawbone. (Remember that process called osseointegration?) This prevents the bone and tissue loss that results from other teeth replacements. Your jaw stays strong and healthy, which keeps you looking younger.
You've Got Multiple Dental Implant Options
At 1st in Smiles, you'll enjoy multiple dental implant options thanks to Dr. Barfield's expertise. For example, if you've been told your jaw is too weak for implants, you may be a candidate for mini dental implants. Since they're smaller than full-size implants, they can be used in areas where regular implants just won't work. You won't need to worry about the added time and expense of a bone graft!
Dr. Barfield can also perform a dental implants procedure called the All-on-4, which involves attaching a full arch of replacement teeth to just four dental implants. It takes skill, because two implants are placed at an angle to increase their contact with your jaw. Fewer implants mean less time in our Plano, TX dentist office, usually no bone grafting, and a lower cost.
If you think this summer is a great time for a dental implants procedure, call 1st in Smiles at 972-380-8105.