Skip to Content
6 Tips for Adjusting to Invisalign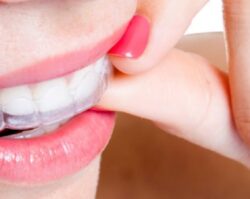 Invisalign is a great way to get straight teeth, custom-tailored to your individual smile. Since it involves a series of custom-made aligners instead of metal brackets and wires, most people find it less of a hassle to adjust to Invisalign than to braces. Still, there are some things you can do to make sure your adjustment period goes well.
Check out Dr. Rick Barfield's six tips for adjusting to Invisalign. If you're still considering your orthodontic options, call 1st in Smiles at 972-380-8105 to schedule a consultation with him. Since Invisalign consultations are free, you've got nothing to lose! Second opinions are free too.
Here's a Reminder on How Invisalign Works
Dr. Barfield uses 3D design software to create a treatment plan that will correct your orthodontic issues. The software can also give you a digital preview of what your smile will look like following treatment. A special Invisalign lab then creates a series of aligners for you. You wear each set of aligners two to three weeks before switching to the next ones. The aligners gradually move your teeth into place. While treatment times vary, the average for adults is just 12 months.
Tip #1: Be Disciplined About Wearing Your Invisalign Aligners
In order to complete your treatment as quickly as possible, you should wear your aligners 22 hours a day. Making it a habit is essential. We recommend removing them only for meals and for oral hygiene. It's especially important to remove aligners as infrequently as possible when you first begin wearing a new set.
To help you stay on track, you can use the TrayMinder app. It tracks how long you've worn your aligners and reminds you when to switch to your next set of trays. The free app is available in the App Store and Google Play.
Tip #2: Try Dental Wax to Ease Discomfort
Most people find adjusting to Invisalign more comfortable than adjusting to braces, thanks to the lack of metal hardware. However, the edges of aligners may irritate your gums until you get used to wearing them. If that happens, we recommend using dental wax to cover the edges. If you're irritated by a rough edge and wax doesn't help, bring it to us. We may be able to further smooth it for you.
Here are some other tips for reducing discomfort while adjusting to Invisalign:
Suck on ice while your aligners are out
When switching to new aligners, do it before bed; you're less likely to be bothered by discomfort while sleeping
Tip #3: Always Carry a Case
The ability to remove aligners makes it convenient to eat and easier to keep your teeth clean. However, it also means you may misplace them – especially while you are still adjusting to Invisalign. Carry a case with you at all times so you can pop your aligners into the case every time you take them out. Trust us; it's too easy to toss them into the trash if you decide to put your aligners in a napkin while grabbing a quick meal away from home. Keep a case in multiple places so one is always available: at home, in the car, in your purse, etc.
Tip #4: Hang Onto Your Invisalign Aligners
Don't discard your old aligners when you move to a new set. Always keep your prior set as a back-up. That way, if you lose or break aligners you can wear the back-ups while waiting for your replacements.
Tip #5: Watch Out for Staining
We know, it's tempting to keep your aligners in while having a cup of coffee or another beverage. But don't do it. It's OK to drink water while wearing your aligners – and it's a good idea, as water is great for your health. But any other beverage can stain your aligners, which will make them look a lot more noticeable in your smile. Hot beverages are an especially bad idea, as they can warp your aligners.
Tip #6: Use the Right Products to Clean Your Aligners
Don't use toothpaste on your aligners, as it can scratch the plastic and leave them looking dingy. Use a mild, anti-bacterial soap instead. Brush them with a soft-bristled toothbrush. Brushing is especially important in the morning, as bacteria can build up on your trays overnight. It's a good idea to soak them in a solution of vinegar and water every week or so.
We hope our tips will make adjusting to Invisalign easier for you. If you have any questions, call 1st in Smiles at 972-380-8105.