Skip to Content
Your Choice for a Plano, TX Family Dentist {Blog}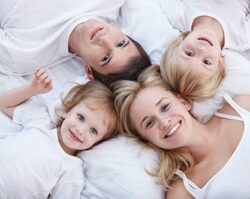 As we begin 2017, you may be wondering what to do about your family's dental health. Is it time to purchase a family dental plan, or can you make it another year paying out of pocket? Families facing decisions like this need a Plano dentist they can count on. They need Dr. Barfield and his team.
Dr. Barfield has extensive experience working with families as their children age from infancy through young adulthood. His gentle approach and winning technology make 1st in Smiles a number one choice for Plano families.
What to Look For in a Family Dentist
Choosing a dentist for yourself is easy — you are looking for someone you get along with. But what happens when you are not the only person seeking care? Your children and partner are often the deciding factor when choosing a provider.
What if you found a provider who had all of the dental treatments you are looking for but could also care for all of the other members of your family?
You are looking for someone who offers all levels of treatment, like…
… High quality teeth whitening
Affording Care for the Family
Once you've selected a dentist for your family, it's time to figure out how you will pay for that care. One way families try to avoid paying for dental care is by not taking their children to the dentist until after baby teeth have fallen out.
Please, don't make this mistake.
Any money that you might have saved by avoiding the dentist will be spent as the dentist works to repair years of neglect. While baby teeth will fall out, they serve a vital role as placeholders for adult teeth. If teeth are lost too soon due to decay, if gum disease is allowed to take root, or if serious conditions are not caught until it's too late, your child's smile will show the consequences for the rest of their life.
Any money saved will be spent repairing teeth, providing orthodontic care, and trying to heal years of infection.
Instead, look into our payment options. We know how challenging it can be to pay out of pocket, so we work closely with our patients to help you find a financial plan that will work for you. We work with third party lenders and even offer in-house financing for major dental procedures.
Make 2017 Your Healthiest Yet
Among your New Year's Resolutions, add, "Have a healthier family." Start by calling our office at 972-380-8105 today. Make an appointment for yourself and see what our office has to offer. You won't be disappointed.
Once you get a feel for who we are, we are sure you'll want to bring your entire family. Call today!