Skip to Content
We Love Invisalign, and You Will Too!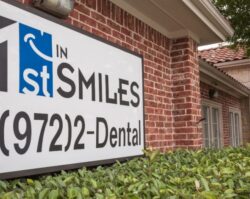 Welcome to the 1st In Smiles blog! We are happy that you found our online home. If you live in the Plano, Texas area, we would love to see your smiling face in one of our chairs sooner than later. So, what brings you here today?
Are you looking to finally do something about your collection of crooked, crowded, or gapped teeth?
Then you are in luck! All you have to do is schedule your adult orthodontic consultation and we'll take care of the rest. At 1st In Smiles, we'll work closely with you to outline your unique goals and current needs, allowing us to create a personalized plan of action for achieving the smile you deserve.
And don't jump to premature conclusions regarding orthodontic treatments. In the modern era it is easier than ever to address these kinds of issues. It is nothing like the ordeal that your friends likely experienced back in the day.
In fact, you might just be a good candidate for Invisalign, a wonderful new system for re-arranging adult teeth.
Read on to see the reasons why we love Invisalign clear braces, and then be sure to get in-touch to take the next step!
They Are Practically Invisible!
You will love how Invisalign is designed to be more subtle than the other options. This means that your orthodontic hardware won't draw any unwanted attention. That's because, instead of using metal wires and brackets, Invisalign gets the job done with clear (practically invisible) plastic aligners. You can fly under the radar the whole time.

These "Braces" Are Removable!
It's well known that once you have metal braces installed in your mouth, there is no break from the gear until your treatment is completed 2-3 years later.
Invisalign aligners are different. You can actually remove them for eating, taking selfies, and whenever it makes sense. You will still need to wear them most of the time but this is a big improvement.

No Hassles!
Braces used to be a full-time project. Not so with Invisalign. Switching out your own aligners for the next ones in the series is easy. And it saves you from taking time off to visit the orthodontist's office for monthly adjustments.
What's more, you won't have to take special cleaning tools when you go out of the house, or waste time shopping for the kinds of food that won't get trapped in your metal wires and brackets.

It Doesn't Hurt!
Invisalign aligners won't be painful to wear like metal braces. They are more like a wearing a mouthguard in the way that they rest gently around your teeth.
Accordingly, you won't need to depend on oral waxes to form a protective barrier over your soft tissues. With Invisalign, there won't be any bleeding, mouth sores, or any other discomfort whatsoever. How nice is that?

Fast, Dependable Results!
Ordinarily, your smile transformation would take 2-3 years with classic metal braces. With Invisalign, by contrast, you can see results in only about 12 months, depending on your situation when we get started.
Once your treatment is over, your new smile will be every bit as good or better as the one traditional braces would have delivered for you.
Make It Happen!
In our Plano office, we make it easy to transform your smile with Invisalign! Why not take the next step now?
Call us at 972-380-8105 to set-up your adult orthodontic consultation!