Skip to Content
Try Dental Gifts for Dad Who Has Everything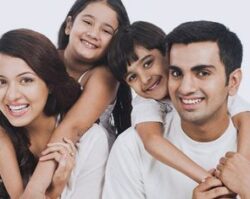 It's almost Father's Day (June 17). Do you have a gift for dad? Some dads are easy to gift; others, not so much. Maybe your dad already has every gadget he'll need – and a lot he never will. His grill and accessories are the envy of every other dad in the neighborhood. His wardrobe is complete. He even has a "World's Best Dad" coffee mug.
How about giving him a gift that will make him think of you every time he smiles? We think he'd love a procedure to improve his teeth. Or if he is an inveterate gadget lover, consider gifting him with a Bluetooth-enabled toothbrush.
Just in time for Father's Day, here is a list of ideas for dental gifts for dad from Dr. Rick Barfield and the rest of our Plano, TX dentist office. Call 1st in Smiles at 972-380-8105 if you're interested in getting a dental procedure for dad. We'll be happy to work out payment and other details with you.
Dad Will Appreciate Dental Treatments
Your dad might be interested in some of these cosmetic dentistry procedures to improve his smile:
Dental veneers. Veneers can hide nearly any cosmetic flaw, including chips, stains, small gaps, and worn-down teeth. We use Lumineers, an ultra-thin veneer. Unlike most other veneers, we likely won't have to remove any enamel from teeth before placing them on teeth.
Teeth whitening. Give dad a big smile boost with a whitening treatment. He can come to our office for a one-hour treatment. Or we can create custom-made whitening trays for him to use at home with our professional-strength gel.
Invisalign. If dad has always wanted a straight smile, he'll be thrilled with Invisalign. It's a system that uses a series of clear plastic aligners to straighten teeth. So there's no mouthful of metal! Aligners are removable, which means he'll never have to skip foods for fear of getting them stuck in braces.
Teeth recontouring. We can make improvements to the shape or surface of dad's teeth using a device that's a lot like a small sander. It's a great choice for slightly chipped teeth or a tooth that is longer than the others.
Gum reshaping. If an excess of gum tissue gives dad a "gummy" smile, we can painlessly remove it so he has a better balance between teeth and gums. We can also even out a crooked gumline.
If he has missing teeth, getting dad dental implants will not only make his smile look better but feel better too. Unlike some other tooth replacements, implants will help preserve his jawbone. They also feel and function like natural teeth, so he can eat whatever he wants. Caring for them simply involves brushing and flossing as usual.
Depending on your financial situation, some of these gifts may require mom or siblings to chip in. But unlike a tie, a grill, or a gadget, they have the potential to change your dad's smile – and his life.
Get Gadget-Loving Dad a Bluetooth Toothbrush
If your dad never met a gadget he didn't like, he might like to trade in his old electric (or hand powered) toothbrush for a Bluetooth-enabled model. You can find a popular one from the Oral-B Pro 5000 SmartSeries on Amazon for under $100. Dad can connect his brush to his smartphone where it will interact with an app designed to improve his brushing technique. He also might enjoy experimenting with the different settings to brush his teeth, such as ones for extra gum stimulation or enhanced whitening. There's also a sensor that lights up if dad brushes too hard, which can damage teeth and gums.
Make Dad a Toothbrush Holder, for a DIY Gift
Does dad still have every paperweight you ever made him? Then maybe he'd like a toothbrush holder made by you. This article will give you some great ideas, including one made from an action figure for comic book-loving dads. Many of them use materials you likely have on hand. They definitely won't break the bank!
With or without dental gifts for dad, we hope you have a happy Father's Day! If either of you needs to see us for a dental exam, or anything else, call 1st in Smiles at 972-380-8105.