Skip to Content
The Truth About Stained Teeth and Teeth Whitening Products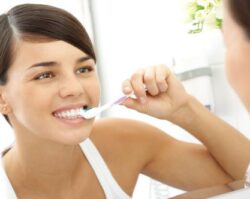 Has your smile got you down? Do you notice more stains and discolorations on your teeth as you get older? Do your stained, yellowed, or discolored teeth make you embarrassed to smile? Have you considered undergoing teeth whitening treatments but don't know where to turn?
If you answered yes to any of those questions, we want to help. At 1st In Smiles in Plano, TX, we offer a variety of professional teeth whitening treatments to help your restore the shine to your smile. Our treatments are flexible and convenient enough work for people of all ages and lifestyles. We want to help you achieve a smile that rivals the smile of Hollywood stars.
So in today's post of our dental health blog, we're going to give you an in-depth look at our veritable menu of professional teeth whitening options. But first we want to dispel some popular misconceptions that exist about both teeth discoloration and teeth whitening.
The Truth About Stained Teeth and Teeth Whitening Products
Stained and discolored teeth can be caused by any number of factors – many of which are unavoidable. For one your teeth become much less resistant to stains as you get older even if your brush and floss everyday. Your teeth can also become stained by certain prescription medications, genetic factors, and your history of tobacco use.
Eating and drinking certain foods and drinks can also leave their mark on your smile. Red wine, coffee, and tea are notorious for causing stains and discolorations because of the natural dyes and tannins found in these beverages. The artificial dyes found in processed foods can also leave you with stains on your smile.
Maybe stains and discolorations have tempted you to try an over-the-counter teeth whitening product. Sadly many of these products are simply ineffective because they simply don't have the whitening power you need to beautify your smile. In addition these over-the-counter whitening products are made with harsh chemicals which can irritate your gums and teeth.
At the end of the day, your teeth are likely to become stained and discolored at some point in your life. You can try the products you find online or at the grocery store, but you may just end up with an irritated smile. But that doesn't mean you have to live with stained and discolored teeth. At 1st In Smiles in Plano, TX, we offer a full menu of whitening solutions that can fit every budget and lifestyle.
1st in Smile's Professional Teeth Whitening Menu
If you need to have your teeth looking great in a hurry we recommend an in-office treatment of Opalescence Boost Teeth Whitening. This is a great option if you want to quickly prepare your smile for a wedding, graduation party, or other important social occasion. We apply professional strength whitening gel and activate it with an ultraviolet light. After just one of treatment you'll have a beautiful white smile. We even provide you with a touch-up whitening kit so you can keep your smile look great.
If you'd prefer a less expensive treatment, we also offer professional strength Opalescence at-home whitening kits to give you a great new smile in just a couple of weeks. This safe and effective option includes professional strength whitening gel and customized whitening trays. The customized whitening trays not only ensure a perfect fit, they ensure even and beautiful whitening for your entire smile. You simply wear your whitening trays for a few hours everyday. In just a couple of weeks you'll see a dramatic whitening of your smile, which can make you look both younger and healthier.
We also have a free whitening for life special for our valuable customers. When you sign up for regular dental exams and dental cleaning we'll provide you with customized whitening trays and whitening gel at absolutely no cost. This option is a wonderful way to keep you looking young and healthy with an incredible smile to match.
Ready to enjoy a new celebrity smile? Then contact your Plano cosmetic dentist at 1st In Smiles. We're proud to offer professional teeth whitening and other cosmetic dentistry services to help you look your best. To schedule a consultation give our office a call at 972-380-8105.