Skip to Content
Straighten Your Teeth Without Brackets & Wires [Video]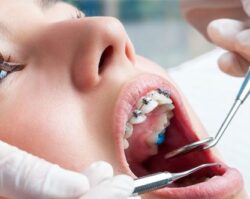 There once was a time when undergoing orthodontic treatment meant having to wear awkward headgear or metal brackets and wires. But thanks to Invisalign® treatments from 1st In Smiles, it's possible to get the smile of your dreams without the mouthful of metal!
"Invisalign is an orthodontic procedure where we make study models of somebody's teeth and from those models, we make these clear trays to fit over somebody's teeth," Dr. Barfield said. "And every three weeks they come in and get a new set of trays and we slowly move their teeth over a period of time until we get the desired result that we are looking for."
Watch this video to learn more about Invisalign. Then, if you're looking for alternatives to traditional braces in the Plano, TX area, give us a call at 972-380-8105 to schedule a free consultation!