Skip to Content
5 Ways to Care For Your Smile During Spring Break Travel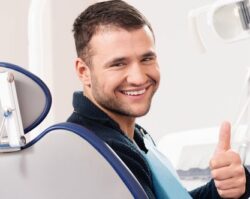 When you're traveling, your dental health is probably the last thing on your mind. But truth be told, one small smile mishap — like a damaged dental crown or a severe toothache — can completely zap the joy out of what would have otherwise been a great adventure!
Fortunately, there are things you can do to prepare your smile for time out of town, and with spring break right around the corner, 1st In Smiles is here to help! Read on for several travel-related dental health tips that can help lessen your chances of a dental disaster while you're away.
And if you're looking for top-notch comprehensive dentistry in Plano, TX, stop by our office! Even if it has been a while since you've been to the dentist, don't worry. Our office is a "lecture-free zone!" We're focused more on your future smile health than anything that happened in the past. Call us at 972-380-8105 to schedule an appointment.
Tip #1: Schedule a Checkup Before You Go.
Imagine this: You've sort of felt like something's wrong with your tooth for about a month now, but you haven't found the time to get to the dentist. So, you board your flight to Miami, FL for spring break having not gotten the tooth checked out. While you're sitting on the beach, you develop a toothache. You're suddenly in a world of hurt — literally.
This is why it's important to see your dentist before you leave! We typically recommend that you see us once every six months for a routine checkup and cleaning, which gives us the chance to catch any dental complications that could worsen and cause a problem later on. As an added benefit, the talented hygienists at 1st In Smiles do a great job removing tartar (or hardened plaque) that accumulates on your teeth, so you'll leave our office with a smooth, shiny, vacation-ready smile!
Tip #2: Do Your Research.
Before you go, take a minute to look up emergency dentists near your vacation destination, as well as ways in which you can take matters into your own hands in the event of a dental emergency.
Those include:
Knocked out tooth. Handling the tooth by the crown and avoiding the root, rinse the tooth with warm water (if necessary) and carefully place it back in the tooth socket. If that's not possible, put in in your mouth next to your cheek, in a small container of milk, or use an over-the-counter emergency tooth preservation kit. Try to see a dentist within 30 minutes.
Broken tooth. Mitigate pain with over-the-counter pain relievers, and apply a cold pack to the side of your face to minimize swelling. If there's any bleeding, apply clean gauze and pressure to the area. Rinse your mouth out with warm water, and see a dentist as soon as possible. In the meantime, it's wise to protect the broken tooth that's in your mouth with temporary dental cement, which can be found in drugstores.
Toothache. Take an over-the-counter pain reliever for your discomfort, and apply a cold pack to your face. Until you're able to see a doctor, you can find over-the-counter numbing gels that can provide temporary relief.
Tip #3: Traveling With a Temporary? Pack Some Denture Adhesive.
It's never ideal to travel with a temporary crown, but it's hard to avoid sometimes. These restorations are temporary for a reason — they don't always fit well, and they're placed with a softer dental cement. That means they sometimes fall out or come loose, particularly if you eat something sticky or chewy.
Avoiding problematic foods is certainly a good practice if you're wearing a temporary crown, but it's also a good idea to keep some denture adhesive or over-the-counter dental cement on hand. This way, if your crown comes loose, you can reattach it before it leaves the tooth underneath sensitive or in pain.
Tip #4: Keep Your Dentist's Information on Hand.
Before you leave, make sure you have your dentist's name and phone number in your cell phone contacts or have their business card in your wallet. In the event you do have to see a dentist while on vacation, it's helpful for them to be able to communicate with your dentist back home in case follow-up is required.
If you're traveling overseas, you should also keep contact information on hand for the U.S. embassy or local consulate. If you are in need of a dentist, ask them for a recommendation. While it's sometimes OK to ask the hotel concierge for a suggestion, be wary as they may recommend a relative or someone with a business relationship.
Tip #5: Don't Forget Your Toothbrush.
Particularly if you wait until the last minute to pack your suitcase, it's easy to leave your toothbrush at home. Double check that you have it so you can practice healthy habits even while you're out of town!
If you do happen to forget it, there are a couple things you can do. In a pinch, you can use a clean finger or clean washcloth with a bit of toothpaste. Some people might be tempted to use their partner's toothbrush, but cavities are actually contagious! When you share toothbrushes — or drinks or eating utensils, for that matter — you run the risk of passing harmful bacteria to your partner and vice versa.
Of course, it's less than ideal to use a finger or washcloth to "brush" your teeth all week. Get to a drugstore as soon as possible and purchase a new toothbrush. If you can, find one with the American Dental Association Seal of Acceptance. If it's not, simply buy the one with the softest bristles.
Partner With 1st in Smiles Year-Round
The best way to keep your smile healthy when you travel is to prioritize your dental health all year long! If you're looking for a "home" dentist in Plano, TX, stop by 1st In Smiles for a visit. You'll love our friendly staff and attention to detail. We're proud to offer high-quality comprehensive dentistry in a relaxing setting!
Call us at 972-380-8105 to schedule an appointment, or simply fill out our online form.