Skip to Content
Stop Snoring, Sleep Better, Feel Refreshed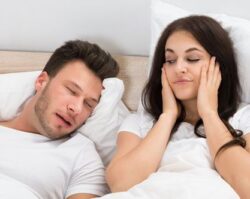 Sleep apnea affects tens of millions of people across the United States. Many of them are not aware they have this sleep disorder because they have never been diagnosed. As a result, many people with this condition are not getting the treatment they need. Here are three reasons you should treat it
You Will Snore Less
Loud and persistent snoring is one of the hallmarks of obstructive sleep apnea. If you are aware of this, it's probably because your loved ones have been complaining about you keeping them awake.
You Can Enjoy Deep Sleep
When you have sleep apnea, you can stop breathing hundreds of times every night. To fight this, your body will wake you up briefly so you can catch your breath. As a result, you don't reach the stages of deep sleep, which you need to avoid sleep deprivation.
You Can Actually Wake Up Feeling Rested
When you wake up after a night of deep, healthy sleep, you will notice the difference in the morning and throughout the day. We could help you get diagnosed and get treatment.
Call 1st in Smiles today at 972-380-8105 to schedule an appointment in Plano, TX. You also can contact us online.