Skip to Content
Stop Gum Disease With a Deep Cleaning! [Video]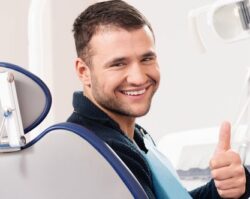 Eddie was a little nervous at his first appointment at 1st In Smiles because he hadn't been to the dentist in quite a long time.
Because of that, he needed a deep cleaning, where we get under the gumline to remove plaque and tartar buildup, eliminate gum disease infection, and smooth out the tooth roots so the gums can heal.
Naturally, Eddie was apprehensive about the process, but in today's video, you'll hear him talk about how easy it was and why he continues to trust our team with his oral health needs!
Call 1st In Smiles in Plano, TX today at 972-380-8105 or contact us online to request an appointment.