Skip to Content
Sedation Dentistry Will Put You at Ease in Plano, TX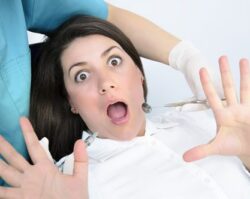 Welcome to another February edition of the 1st In Smiles blog! Thanks for stopping by our online home. What brings you here today?
Are you…
…scarred by awful dental experiences from your past?
…afraid of confronting the reality of your oral health needs?
…anxious about coming back to the dentist after so much time away?
…ready to get back on the good road?
…looking for a dentist in Plano, Texas that you can trust to put your fears to rest?
Then we can help!
Our caring and compassionate team can provide you with a comfortable environment and gentle dental services designed to get you back on-track fast.
We will be here to help you restore your health, regardless of how many months or years you have been away from the dentist's chair. And we won't add any insult to injury by lecturing you about the shape of things in your mouth.
First of all, you should know that you are not alone in the way that you feel. As many as three out of four Americans have some level of fear about seeing the dentist! We don't take it personally, but we will take it seriously.
We've seen fearful patients who have waited so long for a dental exam that by the time they came to 1st In Smiles, they required much more extensive and expensive work than they would have if they had kept us in the loop all along.
Here's the thing: hiding from the dentist may be the easy thing to do in the short run, but eventually that strategy will backfire on you. It is always in your best interest to regularly receive the professional teeth cleanings that keep tartar and plaque from unleashing tooth decay, gum disease, and other maleficent things in your mouth.
Another thing to consider is the fact that our thorough dental exams will give you fair warning when there are emerging causes for concern. We can really tell you a lot from these checkups and we can even spot signs of cancer.
Trust us, you wouldn't want to go on ignoring your health because of your anxiety only to end up with some REAL reasons to be afraid for your well-being.
That's why we are here to help you put your fears to rest and get the treatment you deserve!
1st in Smiles Is Sensitive to Your Needs
Perhaps you had a bad experience with a previous dentist or a painful run-in with a dental drill. We know that can be hard to forget. Just know that you won't ever get treated poorly by one of our staff. We actually want to help generate better memories for you to carry forward.
At 1st In Smiles, we try our best to provide an inviting atmosphere for all of our guests. You'll find that we pay close attention to what you are telling us. And, most importantly, we are happy to offer sedation dentistry as a way to make you feel more relaxed and less anxious about your looming dental procedure.
How does that sound?
Laughing Gas Is Given Freely
This is our basic and most universal sedation dentistry option. Nitrous Oxide ("Laughing Gas") is delivered to you through a comfortable mask that fits over your nose. It is a great solution for patients who have a mild level of anxiety.
During your nitrous oxide session, you will remain fully awake, though completely relaxed, and once it is over, you can get right back to your busy day.
In our office, nitrous oxide has been effective for patients of all ages. Because 1st In Smiles is committed to providing you with a relaxed visit, we offer free nitrous oxide during your, or your child's, treatment.
Oral Sedation Takes It Further
Everyone is different in their preferences, anxiety levels, and fears. Oral sedation takes sedation dentistry to the next level for those that need it. This method comes in the form of a pill and is used to treat more intense feelings of anxiety.
In the event that this is a more reasonable option for you, we will give you a prescription to fill prior to your appointment.
As with laughing gas, the oral sedation method will allow you to remain awake during your time here, though you may not remember any of dental procedures you experienced. Sounds good, right?
Keep in mind that its effects do last a bit longer than those of nitrous oxide, which is why we say that, for this level of sedation, you will want to line-up someone to drive you to and from our office. The sedative will take time to completely wear off.
IV Will Wipe Away All Your Fears
We want to do whatever it takes to get you the care you need. IV conscious sedation is another safe sedation technique that allows for the deepest level of sedation while giving us the ability to control the levels more easily than a pill. Even though you'll be awake the whole time, you won't remember any of the procedure and will feel as though you're sleeping.
Take Back Your Oral Health Today!
You know you deserve to have a clean mouth and a healthy smile!
We hope that you will be inspired by this blogpost to reclaim your oral health!
Contact our Plano, TX dentist's office today to learn more about sedation dentistry and get started!
We'll be happy to keep you calm, comfortable, and healthy with our dental sedation options.