Skip to Content
Reclaim Your Health With Restorative Dentistry in Plano, TX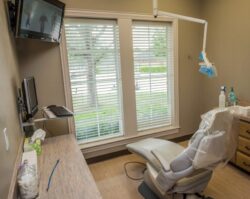 Welcome back to another February edition of the 1st In Smiles dental blog! Our mission is simple: to make you feel like smiling about your health and appearance. But we know that isn't always easy when things are not as they should be in your mouth.
If you are…
…experiencing pain
…too ashamed to smile
…having difficulty chewing the foods you love
…concerned about your oral health
Don't despair! We can help you turn things around quickly with one of our restorative dentistry treatments. 1st In Smiles is a full-service, state-of-the-art dental practice located in Plano, TX. We are conveniently situated off the George Bush Turnpike and the Dallas North Tollway.
Since 1988, we have served the Plano area with exceptional restorative dentistry, and our welcoming, helpful staff will put you at ease as soon as you walk through our doors. If that isn't enough to relax you, we also have sedation available.
As you can imagine, our restorative dentistry aims to restore the function and appearance of missing and badly damaged teeth, whether from infection, disease, decay, or trauma. If you have felt hopeless or embarrassed from any of these problems, you're not alone! And we can make it better!
We have a variety of options for you, from simple tooth-colored fillings to implant-retained dentures, all designed to meet your current restorative dental needs and budget. To truly get your health back on the good road, you will need to schedule a consultation with our team so that we can put together an action plan.
In the meantime, here are some restorative solutions to consider:
Dental Implants
Suffering tooth loss as an adult will inevitably be painful, traumatic, and embarrassing. It will adversely impact your appearance as well as your health. But we can help you reclaim your life with a dental implant.
Our dental implants are used to take the place of tooth roots to anchor an individual replacement tooth or several teeth. We usually complete the tooth restoration using crowns.
1st In Smiles would love to be your Plano implant dentist. We offer many type of implants to suit your needs and finances, from traditional implants to mini implants, All on 4 and All on 6 implants, and implant-supported dentures.
This restorative solution will have you feeling and looking like your old self in no time.
Tooth-Colored Fillings
Tooth decay can set in despite your diligent hygiene habits at home. If they are caught early, cavities won't be too big of a deal in the grand scheme.
After removing decay and cleaning your tooth, we place a filling in the cavity to protect your tooth from further decay and infection. You'll love that we now use composite resin fillings that are metal-free and match your teeth.
Dental fillings are the most common form of restoration around here. We'll make it a pleasant, pain-free experience for you!
Dental Crowns & Bridges
People need dental crowns for various reasons. If you have ever had a root canal on a tooth, we will need to restore the tooth with a crown.
Also if you chip a portion of their tooth, we can restore the tooth by putting a crown on it and the crown will strengthen the tooth and help prevent the tooth from breaking down further. It is also the last piece of an implant procedure.
A dental bridge is a fixed restoration which restores missing teeth. If you are missing a tooth, we can place a crown on the tooth on either side of the missing tooth and there will be a fake tooth between them. It is all bonded together in one piece and it is cemented in place to restore your smile.
Dentures
To replace a full upper or lower arch of teeth, removable dentures are the traditional choice. Dentures are artificial teeth set in molded plastic to fit over your gums. They are kept in place with adhesive.
We also offer implant-retained dentures as a more permanent and secure alternative to removable dentures.
Take Back Your Health Today!
Are you ready to finally restore your smile? We're ready! And were just waiting to help!
Give us a call today at 972-380-8105 or contact our Plano, TX office online to set up an appointment.