Skip to Content
Reasons to Consider Invisalign for Your Orthodontic Treatment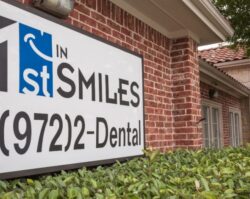 Hello and welcome to the online home of 1st In Smiles. We hope you will come see us in person sometime soon. That's because our Plano, TX dentist's office can help you take your smile just where it needs to go. That's true even if you are dealing with big-time orthodontic issues. Don't worry, we aren't plotting to place metal brackets and wires in your mouth for 2-3 long years. But we might try to get you to take a closer look a method called Invisalign. This system is made up of a series of clear plastic aligners that are changed out by you at home every two weeks. Over time, this system shifts your teeth into a more ideal position using gentle pressure that is placed on them by the aligners. Keep reading to hear more about the advantages of Invisalign, and then make sure you contact us to schedule your consultation with Dr. Barfield!
It's a Comfortable Way to Realign Your Smile
Truth be told, having metal brackets and wires installed in your mouth can be a real drag. It makes for an awkward and painful process, even if it does produce reasonable results. Old-school braces can often cause bleeding and mouth sores, among other problems. But here's some good news: wearing Invisalign clear aligners is nothing like that at all. This is because Invisalign aligners are made up of a clear plastic material, that does not cut or poke the inside of your mouth.
These Are Removable "Braces"
Check this out: Invisalign clear aligners can actually be removed from your mouth at any time. Fair warning, you do have to wear your aligners for at least 22 hours a day to keep things moving forward. But still, you can eat, brush your teeth, or snap a selfie, without worrying about your gear complicating the experience.
Invisalign Provides a Fast-Track to a Gorgeous Grin
Like we said, traditional braces typically take about 2-3 gruelling years to complete treatment. By contrast, with Invisalign, you can see results in only about 12 months! It all depends on your situation at the onset, but odds are good that you will be able to wrap up the process in a lot less time by using this clear aligner method.
Invisalign Is Practically Invisible
Since they are clear, no one will have to know about the construction zone in your mouth. That means no comments, questions, or nicknames will come your way as a result of wearing Invisalign aligners. You definitely can't say that about classic metal braces!
Why Not Schedule Your Consultation Today?
If you are an adult living with crooked, crowded, or gapped, teeth, now is the time to tackle those annoying orthodontic issues once and for all. There are so many reasons to try Invisalign at 1st In Smiles. All you have to do is give us a call at 972-380-8105 or contact us online to request an appointment. Dr. Barfield will get right to work on straightening things out in your mouth!