Skip to Content
No Wires Needed for Invisalign Treatment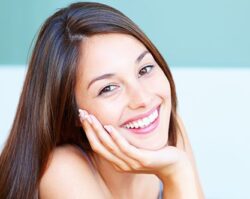 If you're an adult with misaligned teeth, you've probably thought more than once about getting orthodontic treatment to straighten your smile. But one thing probably stops you: wires. You know, the ones that apply pressure on your teeth to move them if you wear traditional braces.
If you're like most adults, you're probably less than thrilled by the idea of having a mouthful of metal for 18 months or more. You worry you'll feel awkward at work or in social settings. Plus, you figure you can forget about popcorn and other snacks that can get snagged in the wires.
There is an orthodontics option that doesn't use wires to straighten teeth: Invisalign treatment. While Invisalign won't work for every smile, it's a good option for many people, especially adults. To find out if it's a good choice for you, call 1st in Smiles at 972-380-8105 to schedule a consultation with Dr. Rick Barfield.
Enjoy Lots of Benefits With Invisalign Treatment
Invisalign treatment straightens your teeth with a series of custom-made aligners instead of metal wires and brackets. The aligners are made of clear plastic, so they are almost invisible in your mouth. Most people probably won't even realize you're wearing them. That's a great benefit, especially if you're an adult worried about the impact braces might have on your professional and/or social life. But it's not the only one.
Invisalign aligners are also:
Removable, which makes it easy to clean them and your teeth. Just remove them for brushing and flossing. You can also take them out for meals, so you won't need to avoid modify your diet because you're worried about foods getting caught in braces.
Comfortable, because there are no metal wires and brackets to irritate your mouth.
Fast, with a treatment time that is typically at least six months shorter than orthodontic treatment with braces.
Invisalign Treatment Is Sophisticated, but Simple for You
Dr. Barfield takes X-rays, impressions of your teeth, and other measurements, then uses sophisticated 3D software to create an Invisalign treatment plan for you. He sends the information to a special lab, which uses the information to create customized aligners according to his specifications. When they arrive, he'll check the fit of your first aligner and make sure you understand your Invisalign treatment plan.
You wear each set of aligners for about two weeks, then switch to the next ones in the series. Over time, they move your teeth into their proper positions. You'll check in periodically with Dr Barfield, so he can make sure your treatment is going as planned. The average Invisalign treatment time for adults is 12 months.
Invisalign treatment works well for many orthodontic issues, but it's not the best choice for every smile. If you have teeth that need to be moved vertically or teeth that need significant rotation, braces may be a better option. Dr. Barfield will be able to advise you.
5 Tips for Your Invisalign Treatment
You'll want to get the maximum benefit from your Invisalign treatment. Here are five tips for doing so:
Wear aligners at least 20 hours a day. Ideally, you'll only remove your aligners for eating or cleaning your teeth. That said, you can take them out for a occasion. But if you do this too often, it can lengthen your treatment time.
Use care when inserting aligners. It's often helpful to use a mirror when inserting your aligners, at least until you become proficient at it. Never bite an aligner into place, as this treatment can damage it.
Follow the treatment schedule we give you. Always wear your aligners for the recommended period. Don't be tempted to move to the next aligner if one feels loose.
Keep aligners clean. Remove your Invisalign aligners before eating or drinking anything but water. If possible, brush your teeth before putting them back in. Brush the aligners too, with a soft toothbrush and non-abrasive toothpaste. If you can't brush, rinse your mouth out and rinse aligners before putting them back in.
Avoid certain oral habits. Don't smoke or chew gum while wearing aligners.
Ready to find out if Invisalign treatment is right for you? Call 1st in Smiles at 972-380-8105 for a free consultation.