Skip to Content
Invisalign: Boost Your Health and Appearance in Plano, TX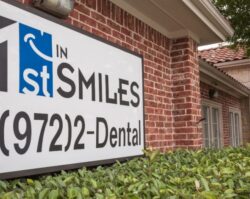 Welcome back to our Plano, TX dental blog! Today, we'd like to tell you about a quick and effective way that Dr. Barfield can treat crooked, crowded, and gapped teeth: it's called Invisalign. This forward-looking method will no doubt boost the appearance of your smile, but it will also improve your health in the process. Doesn't that sound good? Keep reading, and then be sure to get in touch with our team to arrange for your orthodontic consultation.
Times Have Changed at the Dentist's Office
Ordinarily, an orthodontic transformation would take 2-3 years with classic metal braces. With Invisalign, by contrast, you can see results in only about 12 months, depending on your situation when we get started. And you will get to enjoy life a little bit more along the way.
You see, Invisalign eliminates the metal brackets and wires altogether!
Instead, this revolutionary system utilizes a series of clear plastic aligner trays that are switched out by you at home every two weeks. As such, there won't be any awkward in-office adjustments to keep you on track. Plus, these nearly invisible aligners will be harder for outsiders to see and they are much more comfortable to wear. SInce there are no metal components, there likely won't be any mouth sores or bleeding.
The Invisalign aligners are also removable which allows for more menu choices. And cleaning your gear is as easy as rinsing the aligners under lukewarm water (you just keep brushing, flossing, and rinsing, as usual). There are no special tools!
With a pro like Dr. Barfield guiding the Invisalign process, it is truly a hassle-free way to enhance your smile by working on your orthodontic issues. But we always like to point out that Invisalign also guards your oral health too in that it helps with the following problems…
Crowding
Sure, they look awful, but crowded teeth present more than a cosmetic challenge. Living in such a state can actually hasten the onset of cavities and gum disease. This is due to the fact that teeth that are so close together are hard to keep clean. Bacteria is given more opportunities to hide from your brush and floss. Plaque can build up and cause inflammation and infection once it slips below the gumline. This can result in tooth loss and worse if the bacteria gets into your bloodstream!
Gaps
The bad thing about gaps is that your individual teeth will not be protected by the surrounding teeth. This increases the risk of your teeth loosening up, among other things.
If you are sick of putting up with the spaces in your smile, and you want to protect your individual teeth, Invisalign might be able to help with both.
Overbites
Having an overbite can place unwanted stress on your teeth and lead to worn-down or cracked teeth that will need to be repaired by a professional. Invisalign can help make your bite better now and eliminate the need for more costly cosmetic improvements later.
Make It Happen!
In our Plano, TX dentist's office, we make it easy to transform your smile with Invisalign! With Spring already here, why not take the next step now? You can look better and feel better soon. All you have to do is call us at 972-380-8105 to set-up your adult orthodontic consultation, or contact us online!