Skip to Content
Get Your Smile Holiday Season Ready!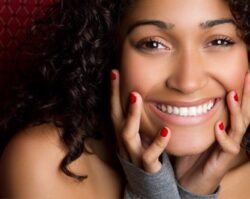 We hate to be like the department stores that put their Christmas decorations up in August, but 1st In Smiles, your Plano, TX dentist office, would like to remind you now is the time to begin thinking about the holidays and your smile.
October is the month to schedule all of your teeth touch-up appointments, before the hecticness of the holidays sets in. Think of all the pictures you'll be taking in the upcoming months and all the delicious foods you'll be eating (and hopefully flossing after!). And there might be benefits from your insurance company you'd like to use before the end of the year.
Holiday Teeth Prep Ideas
Tooth sealants and fluoride treatments for you and the kids. While the big holiday we think about our kids' teeth is Halloween, candy isn't actually the biggest threat to teeth during the holidays. The endless snacking on chips and pretzels during football games, the rolls on the table at Thanksgiving, cakes during Christmas — all are opportunities for carb-rich foods to break down into sugar in your mouth and hide out between your teeth.
Be sure to stay vigilant about twice-a-day tooth brushing and daily flossing. Don't skip out on your bi-annual dental cleanings and dental exams if they fall over the busy holiday season; you'll need to defend your teeth against plaque and tartar buildup more than ever during these months.
As a preventive measure, we can treat your children's teeth, and yours too, with sealants. Sealants are plastics thin enough to be painted on and cover the surface of your teeth to protect them against tooth decay. To keep your teeth strong against sugar, we can do an in-office fluoride foam treatment, fluoride varnish, or send you home with prescription-strength fluoride to apply yourself. We make it easy to keep your teeth healthy.
Gum disease treatment before the busy months. If you suspect you have gum disease, let's start your treatment right away. Don't let it go unchecked over the holidays and find that what could have been resolved with a little flossing and brushing now requires more extensive treatment.
If you do need gum disease treatment, we can do a deep cleaning and fill any deep pockets of infection around your gums with Atridox®, an antibiotic that will continue to work for several days to heal you.
Come see us now — gum disease treatment is no way to start off the New Year!
Get photo ready with teeth whitening, Invisalign, and/or Lumineers. You'll be looking at photos from the holidays for years to come. While we all might snicker at an ugly Christmas sweater or an outdated hairstyle, what you don't want is to be thinking your smile could have been in better shape. 1st In Smiles cosmetic dentistry can give you a smile you won't cringe to look back on.
If you want to whiten your teeth at home, don't reach for the drugstore products. We see patients all the time who wish they'd come to us first after getting disappointing results. We'll take a mold of your teeth for custom Opalescence bleaching trays. When your trays are ready, you'll use the provided bleaching gel for a few days to brighten your teeth.
For teeth as bright as your camera flash, 1st In Smiles can whiten your teeth in-office. Our one-hour Opalescence Boost teeth whitening treatment is gentle on your gums. The whitening solution is paired with UV light to get your teeth their whitest white.
If you've been keeping up with your routine checkups, then don't forget about our free teeth whitening for life service. We'll give you the trays and the gel to whiten your teeth at home.
If you've been looking over photos from past years and you've decided you're ready to close that little gap between your two front teeth or pull crooked teeth into alignment, Invisalign could be the right solution for you.
Don't worry about wearing Invisalign braces through the holidays; the clear trays will hardly be noticeable in photos, and you can take the trays out to enjoy mom's Thanksgiving turkey and sides. Depending on your need, it might even be possible to begin Invisalign now and have straight teeth by next fall!
If you'd like to give yourself the gift of new teeth for the holidays, Lumineers are a great choice. They're a less invasive type of veneer that requires little modification to your natural teeth. Everyone will compliment your flawless teeth around the fireplace this holiday season!
Don't delay, call us today. The holidays always sneak up sooner than you think! Reach us at 972-380-8105 or use our online form.