Skip to Content
Get Your Life Back With a Full-Mouth Restoration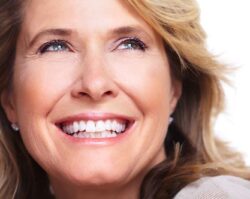 Perhaps no dental service has the potential to change your life as much as a full mouth restoration! If you've lost most or all of your teeth, many things have suffered – including your confidence and your ability to eat a variety of foods.
At 1st in Smiles, you'll find many teeth replacement options so you can select the ones that will work best for your smile and your lifestyle. We offer multiple treatments with dental implants, which give you the performance most like your natural teeth. If implants aren't for you, you can replace teeth with dental bridges or dentures.
We offer several payment options to make your treatment as affordable as possible, including in-house financing or financing from CareCredit.
Ask Dr. Barfield for a free second opinion if you've already consulted with another dentist about full mouth restoration. Call us today at 972-380-8105 to schedule your appointment.