Skip to Content
Get a Celebrity Smile With Dental Veneers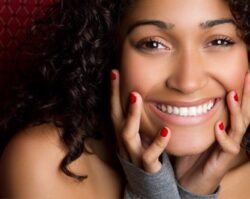 Perhaps unsurprisingly, dental veneers made their debut during the Golden Age of Hollywood as a way to temporarily alter the appearance of actors' teeth.
Decades later, dental veneers are still a favorite cosmetic dentistry procedure among the hottest celebrities. But stars today are using dental veneers to improve their smiles in a way that's beautiful yet natural-looking.
And if you're hoping to achieve a smile that's worth of the red-carpet, it's easier and more affordable than ever. At 1st In Smiles, we use Lumineers®, a popular and natural-looking brand of dental veneer to conceal dental imperfections and give you the smile you've always wanted.
Read on for more information about dental veneers, and then call our Plano, TX office at 972-380-8105 to schedule a consultation with Dr. Barfield.
What Are Dental Veneers?
Dental veneers are thin but tough pieces of material that are custom-made to look like healthier versions of your natural teeth. They're bonded onto your teeth with a special cement to conceal dental imperfections such as:
Discolored teeth. Whitening treatments are only effective at removing stains on the outer layer of your teeth. If your tooth is discolored from the inside, then the best option is often to cover it up.
Cracked or chipped teeth. In addition to its cosmetic benefits, dental veneers can offer some restorative benefits as well. The additional layer added to your natural tooth can provide strength and support.
Irregularly shaped teeth. Dental veneers can easily conceal misshapen teeth to achieve a more consistent smile.
Gaps between teeth. Addressing irregularities in teeth size and shape will ensure a more uniform look that can reduce and close gaps between teeth. That's why dental veneers are sometimes referred to as "instant orthodontics!"
Why Should I Consider Lumineers?
Lumineers have been delivering high-quality dental veneers for more than 30 years. They allow you to get the smile of your dreams more comfortably and in less time than traditional veneers made out of porcelain.
So, what are Lumineers?
Lumineers are ultra-thin dental veneers, roughly the thickness of a contact lens. Thicker all-porcelain dental veneers require extensive preparation before they can be placed. The dentist removes some of the healthy tooth structure to accommodate the dental veneer.
But because Lumineers are so thin, they don't require the same preparation. In some cases, no preparation is necessary at all! This means you can get a natural-looking, more beautiful smile in less time.
Plus, Lumineers are known for their durability. With proper care, they can last more than 20 years!
What Can I Expect When I See 1st in Smiles for Dental Veneers?
When you trust 1st In Smiles for your dramatic smile transformation, you'll be able to get a brand new smile in just two visits!
After talking with you about your smile goals, Dr. Barfield will create a mold of your teeth. We'll also decide what shade of white you want your new smile to be. We'll send this information to the lab, which will create dental veneers that will blend in seamlessly with the rest of your teeth.
You'll come back once your dental veneers are ready to be placed. Dr. Barfield will bond the Lumineers to the surface of your teeth, and about an hour, you'll walk out of our office with a smile you'll love to show off.
How Do I Care For My Lumineers?
The great thing about Lumineers is that you care for them as you would natural teeth, with good dental hygiene practices. Because they're so durable, you can eat and drink what you want with confidence!
Just remember to brush twice a day for two minutes each time with a soft-bristle toothbrush. You should also continue to floss once a day and see your dentist for regular checkups and cleanings every six months. Exercising these healthy practices will help protect your investment in dental veneers!
And unlike traditional dental veneers, Lumineers placed without any removal of healthy tooth structure can be removed. With traditional veneers, it's an irreversible procedure. But with Lumineers, your teeth remain healthy and strong beneath the veneers.
Start Your Journey to the Smile You Deserve
Everyone deserves to have a smile they're proud to show off. If you've been embarrassed to smile because of dental imperfections like discolored, broken, or misshapen teeth, it's time to do something about it!
Dental veneers are one of the most efficient ways to address a multitude of smile flaws because everything can be taken care of in the same procedure. So don't waste another minute stressing about your smile! Call 1st In Smiles at 972-380-8105 to schedule an appointment. You can also use our convenient online form.