Skip to Content
Four Reasons Family Dentistry Is Important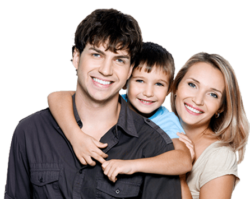 Which of the following things would your rather do:
Bring your son to the dentist with a cavity OR bring your son to the dentist for a preventive cleaning?
Get treated for advanced gum disease OR avoid gum disease?
Visit your family dentist for a dental emergency OR make routine visits a couple times each year?
We know we would prefer the second choices for our families and for the families who come to our dentist office in Plano, TX. These are countless reasons to make regular visits to 1st In Smiles, but we are going to discuss four important ones today.
We also hope this will encourage you to call 972-380-8105 or contact us online to schedule a dental appointment with us before the end of the year if you haven't already.
1. Family Dentistry Helps Prevent Tooth Decay
You don't want your kids to have cavities. You don't want to have cavities, either.
The best way to avoid them is to eat a healthy, well-balanced diet (not too much sugar), to have good oral hygiene habits, and to get regular professional dental cleanings.
Your daily brushing and flossing (or lack thereof) make a huge difference in how much bacteria are in your mouth. These bacteria cause tooth decay, which leads to cavities.
Kids being kids, they might not always brush and floss as well as they should. A professional cleaning from time to time could keep your family's smiles healthy.
(And while you are here, ask how dental sealants and fluoride treatments can provide added protection against tooth decay.)
2. Family Dentistry Fights Gum Disease
Gum disease affects 80 percent of American adults, and many of them suffer from advanced periodontal disease.
Gum disease often isn't painful until its latter stages. As a result, many people don't seek treatment until it's too late. This could explain why gum disease is the leading cause of tooth loss in the United States.
Like tooth decay, gum disease starts with bacteria that already live in your mouth. This is another reason to brush and floss daily and to visit our family dentist office for dental exams.
When you come for a cleaning, we will be looking closely for signs and symptoms of gum disease as well. We hope don't have it, but if you do, we would much rather find it early. This makes the treatment easier — and more effective — for you.
3. Family Dentistry Can Save Your Smile in Other Ways
In addition to fighting cavities and gum disease, 1st In Smiles can help protect your smile in many ways.
If you have a chipped or cracked tooth, you should get it fixed as soon as possible. Depending on how severe the damage is, we may be able to repair it with dental bonding or dental crowns.
At other times, it may be necessary to remove a tooth. This could be because a primary tooth has not fallen out to make room for a permanent tooth. You also may need a tooth removed to prepare for orthodontic treatment, such as Invisalign®.
In a worst-case scenario, you may need teeth removed as a result of a serious infection. In those situations, you should know that we also offer restorative services to replace your missing teeth.
4. Family Dentistry Can Keep Tabs on Wisdom Teeth
You do a lot for your children. At some point, this may include paying for orthodontic care to give them a straight smile. Unfortunately, wisdom teeth have the potential to ruin that work.
Wisdom teeth are our third molars, and they generally erupt in our late teens or early 20s. This is one of the reasons we take X-rays when patients make their regular visits to our Plano, TX, dentist office.
We will monitor your teen's wisdom teeth as they are coming in. This way we can let you know when and if those teeth should be extracted. If left in place, impacted wisdom teeth can create a variety of problems, including a greater risk for tooth decay and gum disease.
We Would Love to Be Your Family Dentist Office
If you are new to the area or just looking for a dentist to care for your family, call 972-380-8105 or contact us online.
1st In Smiles offers a range of services, and we can keep up with your family's ever-changing dental needs.