Skip to Content
Enjoy Almost Magical Results With Dental Veneers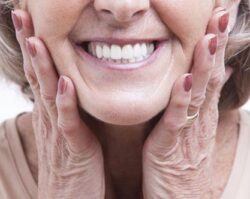 Of all the cosmetic dental procedures now available, few are as transformative and as powerful in effect as dental veneers. It's perhaps not surprising that this procedure has its origins in Hollywood, and is still wildly popular with entertainers and other prominent people today. (You don't think your favorite movie stars' gorgeous grins are all natural, right?)
Of course, you don't have to be famous to benefit from dental veneers. Perhaps you interact with clients and customers and want to present a more polished appearance. Perhaps you want a procedure that will cover multiple dental blemishes. Or perhaps you just want a beautiful, flawless smile to show your best self to the world.
If you live in the Plano, TX area and are interested in learning more about dental veneers, call 1st in Smiles at 972-380-8105.
A Hollywood Origin Story
Fittingly, dental veneers were invented in Hollywood by dentist Charles Pinkus in the late 1920s. Back then, dental care was far less sophisticated than it is today. Many movie stars had decaying, unattractive smiles. These first veneers were temporary, meant to be worn by actors only during the course of shooting a film. It wasn't until decades later, with the introduction of enamel etching and more powerful adhesives that permanent dental veneers became possible.
What Are Dental Veneers?
A dental veneer is a thin shell that is bonded to the front of a tooth. Some people have a single problematic tooth they want to cover. In that case, we are able to manufacture a single veneer that blends in perfectly with the rest of the patient's smile. Other people want a total smile transformation with veneers on all of the visible teeth. In this case, we are able to craft a mouthful of veneers that look flawless, yet totally natural. Our veneers are made out of porcelain, which is translucent just like real tooth enamel.
Since dental veneers cover the entire front of the tooth, they will hide any flaws underneath:
Small chips
Discoloration
Tooth wear
Minor misalignment
Gaps
What Is the Process for Dental Veneers
If you decide to transform your smile with dental veneers, here's what you can expect.
First, we will have a discussion about your smile goals and Dr. Barfield will thoroughly examine your mouth to make sure dental veneers are appropriate for you.
We will prepare your teeth for dental veneers by removing a small layer of enamel. This is necessary for the veneers to fit over the teeth and look natural. Dr. Barfield will take finely detailed impressions of the teeth, which will be used to manufacture your custom veneers.
When we're ready to attach a veneer, we will adjust the fit and color as necessary. We will clean and etch the tooth to enable the veneer to bond properly. We will bond the veneer with a special light-cured cement and make final adjustments.
If you're ready for your Hollywood smile, call the Plano, TX office of 1st in Smiles at 972-380-8105.