Skip to Content
Don't Forget Child's Dental Care For Back to School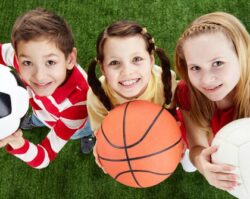 Whether your child is in grade school or in college, you are probably in the thick of getting ready for back to school. We know there is lots to do, from looking for that sold-out calculator on your youngster's supply list to evaluating whether a laptop or a tablet will work best for your student. We hope you won't forget your child's dental care!
You still have time to get an exam or other services on the schedule before your student starts classes. We're open as early as 7 a.m. and as late as 6 p.m. And unlike most general dental practices, you can make appointments at 1st in Smiles on Saturdays. Call us at 972-380-8105 to make an appointment.
Here are some things you may want to consider in your back-to-school preparations:
Allow Time to Adjust to Orthodontics
Invisalign orthodontics is a great alternative to metal braces. Unlike braces, few of your child's teachers or friends will even notice they are straightening their teeth with Invisalign. The clear aligners can be taken out for meals and for oral hygiene. So your child can eat any foods they'd like, and they'll find it easy to brush and floss their teeth. Still, it will take a little time to get used to wearing Invisalign aligners. Your child will feel more confident if they've had time to adjust to them before school starts.
Check Your Child's Wisdom Teeth
Most people get their wisdom teeth in their late teens or early 20s. In some cases, they are crowded, impacted, or coming in at an angle. These issues can cause pain, as well as a number of dental problems. In such cases, it's a good idea to remove wisdom teeth. Your child will need at least a few days following an extraction before they feel like themselves. Until then, they'll want to take it easy and stick to soft foods. Because of this, it's a good idea to schedule a wisdom tooth procedure before your child goes back to school.
Boost Your Child's Confidence With Teeth Whitening
Your child will feel more confident in the classroom and in social situations with a bright, white smile. Fortunately, teeth whitening treatment is one of our easiest, quickest, and most affordable cosmetic dentistry procedures. With an office treatment, they can get a brighter smile in about an hour. Or they can use at-home whitening with professional-strength gel, a process that takes a week or so. Either treatment will produce whiter results that products purchased at a drugstore.
Make Healthy Snacks Part of Your Child's Dental Care
Diet is an important aspect of your child's dental care. If your child takes lunch to school, now is a good time to stock up on plenty of teeth-healthy choices like cheese sticks and yogurt. Dairy products are an especially good choice. Low in sugar, they also contain calcium which strengthens tooth enamel. Fruits and vegetables are great options too. Since they are high in water and fiber, they can help clean teeth. Encourage your college students to snack on these foods, too. You can even use grocery delivery services to have them delivered to their dorm.
Outfit Your Child With a Mouthguard
Whether your child is the star of a school team, plays intramural sports, or just like to shoot hoops with friends to work off a little energy, it's a good idea to get them a custom-made mouthguard. Dr. Barfield will take impressions of your child's teeth to ensure their mouthguard fits perfectly, with no frustrating boil-and-bite process required.
Treat Cavities Before They Worsen
One reason to visit us regularly for dental exams is so that Dr. Barfield finds any cavities while they are small and easy to repair with a filling. A larger cavity may require a dental crown. Worst case scenario, left untreated a cavity can cause an infection that necessitates a root canal to save the tooth.
If you need to make an appointment for your child or have any questions about your child's dental care, call us at 972-380-8105.