Skip to Content
Custom Night Guard a 'Lifesaver' for Kandace (Video)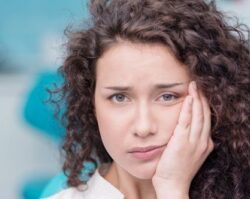 If you grind or clench your teeth while you sleep, you may find a custom night guard can be a lifesaver for you – much as it is for our patient, Kandace. When she came to us because she was having difficulty opening her mouth without pain, we fitted Kandace for a night guard that relieved pressure on her jaw and prevented the dental damage that can result from those problematic behaviors.
Watch our video to see what a big difference the night guard has made for Kandace, who says she can now easily participate in two of her favorite activities – speaking and eating – without discomfort. She has been wearing her night guard for more than seven years with no problems. We also helped her solve a tooth sensitivity problem by recommending a special toothpaste.
If you think you could benefit from wearing a custom night guard, call 1st in Smiles at 972-380-8105 to schedule a consultation.