Skip to Content
Compassionate Dental Care in Plano, TX [Video]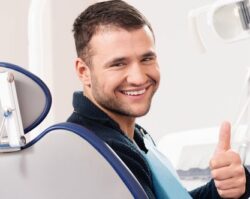 You shouldn't have to dread going to the dentist.
That's why Dr. Barfield has built a team of dental professionals that's not just highly skilled and technically proficient; they love what they do and the patients they work with.
Our patient Bob Beaudine enjoys the care he receives at 1st In Smiles so much that he refers all his family and friends to our office!
"You're not worried ever the moment you step in," Bob said. "They know your name. Isn't that fascinating that they know who you are?"
Watch this video to hear more about Bob's experience. Then, if you're looking for personalized and personable dental care in Plano, TX, give us a call at 972-380-8105 to schedule an appointment!