Skip to Content
3 Signs You Might Have Gum Disease (And What to Do About It)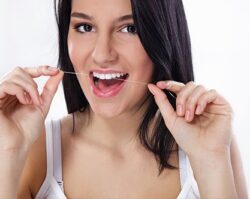 Gum disease can wreak all kinds of havoc on your dental health — and it often goes unnoticed until it has caused severe and irreversible damage.
This infection of the tissue surrounding your teeth can cause bad breath and gum line recession, discomfort and even loose teeth. And more than half of Americans over the age of 30 are living with gum disease, according to the Centers for Disease Control.
Want to know how to prevent and fight gum disease? The highly skilled team of dental professionals at 1st In Smiles in Plano, TX makes it easy. With routine checkups and professional cleanings, as well as non-surgical gum disease treatments, we can help spot the earliest signs of gum disease and act quickly if infection should arise.
Read on for three signs you may have gum disease, as well as ways that we can help. Then, give us a call at 972-380-8105 to schedule an appointment. Let's work together toward better gum health!
1. Gums That Are Red, Swollen, or Bleed Easily
Healthy gums should be a pinkish color, not a rusty red. Similarly, proper brushing and flossing should never cause your gums to bleed. If that does happen, you're either cleaning your teeth a bit too vigorously or you have gum disease.
Red, swollen, or bleeding gums are often a sign of gingivitis, which is a more mild form of periodontal disease. Left untreated, it can develop into periodontitis, a more serious form of gum disease.
Gingivitis can often be treated with a deep cleaning of the area along and below the gum line.
At 1st In Smiles, we do this with a procedure called scaling and root planing. To ensure your comfort, we'll numb the affected area. Then, using special tools, we'll remove plaque and tartar buildup from your gumline. Then, we'll gently smooth the roots of your teeth to discourage the bacteria that cause gum disease from hiding along the gum line in the future.
2. Bad Breath
Gum disease is caused by bacteria that hide along and below the gum line. In the same way that neglecting to properly brush your teeth can cause bad breath, bacterial buildup that causes gum disease can cause an unpleasant odor as well.
Flossing regularly once a day can prevent bacterial buildup. But if you're experiencing persistent bad breath that doesn't seem to go away with proper dental hygiene habits, increased water intake, and use of antiseptic mouthwashes, it could be a sign of gum disease.
If you suspect that's the case, schedule an appointment at 1st in Smiles.
3. Gum Recession
When you look at your smile in photos or in the mirror, have your teeth taken on a strange, elongated appearance? Are your teeth sensitive to hot, cold, and sugary foods and drinks?
If so, it's possible your gum line has begun to pull away from your teeth. This is a common sign of periodontitis.
In some cases, gum recession is so severe that "pockets" or gaps have formed between the gum line and the teeth, exposing part of the tooth root. Food particles easily get stuck in these pockets, making them prime real estate for bacteria. This can cause decay of tooth roots that, in some cases, loosens teeth or causes severe infection.
If scaling and root planing isn't enough to eliminate the bacteria in the pockets formed by gum recession, we might use an antibiotic treatment system called Atridox®. We place the antibiotic directly over the pockets. The antibiotic releases slowly over the next few days, eradicating infection and allowing your gums the chance to heal.
Sometimes, a more involved procedure is necessary to repair the damage caused by gum recession. Depending on your case, we may recommend a gum graft to restore the health and appearance of your gum line.
This procedure involved placing a small amount of healthy tissue over the top of the receded gum line to encourage the growth of healthy tissue. You'll feel confident in the care of our highly skilled team, but we also offer dental sedation options if you want to further minimize stress and discomfort.
This includes:
Nitrous oxide. Commonly referred to as "laughing gas," this fast-acting dental sedative will make you feel a sense of calm and mild euphoria. You breathe the nitrous oxide in through a small mask we place over your nose.
Oral sedation. This form of sedation is administered in the form of a pill, which you take a set amount of time before your appointment. You'll arrive relaxed and ready for your procedure.
IV conscious sedation. This is the deepest form of sedation we offer. You'll experience your procedure as if you were in a dream, and you likely won't remember much about your dental work after it's over.
Experiencing the Signs of Gum Disease? Call Us!
Healthy gums are the foundation of a healthy, beautiful smile! If you suspect you are among the millions of Americans living with gum disease, give us a call at 972-380-8105 You can also request an appointment by filling out our convenient online form.