Skip to Content
Back to School Smile Tips From Dr. Barfield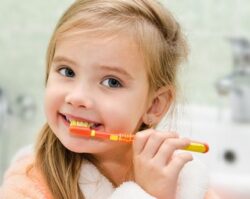 Hello and welcome to another September edition of the 1st In Smiles blog!
You may not know this, but our leader, Dr. Rick Barfield, decided as a young boy that he wanted to be a dentist when he grew up, and help change people's lives for the better.
He has been doing just that in our community for over 30 years now, earning quite a reputation as the go-to person in the area for comprehensive dentistry solutions.
As such, Dr. Barfield and the rest of our team are committed to keeping our patients educated so that everyone can stay on track in regards to oral health, even in the months that lie between appointments.
To that end, we have compiled some suggestions for you and your family to keep in mind as the new school year takes over your life!
Keep reading to hear our tips for keeping your mouth fresh and your smile looking great all year long, and then be sure to get in touch with any questions or to schedule your back to school checkup in our Plano, Texas dentist's office.
Hygiene Begins at Home
You already know that if you have kids, it is your responsibility to set a good example for your brood. They will be watching you and will pick up on your excellent daily hygiene habits at like brushing, flossing, and rinsing with mouthwash.
Why is that so important? Because what you do at home will be the basis of a lifelong prevention program.
So, where do you begin? Brushing! The American Dental Association suggests you brush your teeth twice a day for two minutes at a stretch, and floss at least once each evening.
That is the least you can do for your smile!
The Dentist Takes It Further
Remember: any plaque that is missed by your diligent efforts at home will harden and become calculus (tartar).
That calculus will begin wearing away at the enamel of your teeth, contributing to decay, tooth loss, and, eventually, bone loss. Nobody wants to deal with all that.
Usually it takes a professional to see what is unfolding in your mouth before it creates problems that are painful and expensive to solve.
That's where we come in!
Teeth Cleanings, Oral Exams, Etc.
You know the drill (OK, that's sounding like a bad dental pun). Still, our crucial preventative treatments include extensive oral exams and teeth cleanings. We can also take it deeper by setting you up with dental sealants, fluoride treatments, and so forth.
Mouthguards
These dental appliances serve as protective therapy for TMJ disorder treatment, sleep apnea, snoring, and athletic protection. This is a must-have if your kids are involved in sports.
We have them custom made just for your unique mouth to ensure the most comfortable fit.
You can bet that our mouthguards are safe, durable, and effective. And they are much more beneficial to you than those commercial grade, store-bought mouthpieces, which can potentially do more harm than good.
Learn More, Get Started!
We hope you have a safe, healthy, and happy year. To keep your family on the good road in terms of oral health, contact us today to schedule your next dental appointment in Plano, Texas!