Skip to Content
Sedation Dentistry and Your Dental Health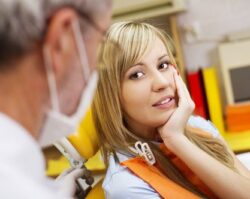 Welcome back to another September edition of the 1st In Smiles blog!
It is amazing how quickly the months go by.
If it has been a while since you have darkened the doors of dentist's office in Plano, Texas, we'd like to know why, and more than that, we'd love to help you get back on track ASAP.
We are only asking because we care.
You see, many folks in our community are currently experiencing some level of dental anxiety (a very real and dangerous condition of fearing the dentist). Maybe you can relate.
And deep down, you probably want to get the care you deserve–just without any hassles, lectures, or discomfort.
You'll be happy to know that in this place we strive to create a fun, laid-back atmosphere. Beyond that, we currently offer three different types of dental sedation, which will vary according to your procedure, the length and number of treatments, and your level of anxiety.
In addition to alleviating fear, sedation is a great way to help anyone who has trouble sitting still, has sensitive teeth or gums, or has a low tolerance for pain and needles, etc.
Read on to see how Dr. Barfield's experience and compassion in dentistry can help transform your smile and give your overall health a boost. Then, be sure to get in touch with our team to schedule your next appointment!
Nitrous Oxide
The most basic of our sedation options is nitrous oxide (aka: laughing gas). It can definitely help you feel more at ease while you are in our midst.
The gas will be administered to you through a non-invasive mask that rests gently over your nostrils. It's easy and pain-free. You will just breathe normally throughout your procedure, and our team can regulate the amount of sedation you receive.
This sedation method works well for anyone with mild anxiety and can be used in conjunction with any of our dental services.
Oral Conscious Sedation
Oral sedation is a prescription sedative that you take, usually about an hour before your appointment is scheduled to occur.
Through the help of this little pill, you might not even remember why you were ever afraid of the dentist, and you'll definitely want to have a friend lined up to drive you home.
IV Sedation
IV sedation is a very direct and powerful method of sedation, and its effects will be felt immediately. For this method, a sedative is administered right into your bloodstream by way of an intravenous injection.
IV sedation will make you feel very relaxed, and comfortable enough to get through even our most invasive procedures. Accordingly, you will be able to rest easy throughout your visit and remember little of the experience when we are through.
Relax! We've Got You Covered!
We hope that you have been inspired by the possibilities outlined in today's post. Your health is too important to hide from. Especially when Dr. Barfield can help you get back on the good road fast.
If you suffer from dental anxiety or believe that sedation dentistry can help you relax better, just let us know by calling 972-380-8105 or contacting us online.