Skip to Content
Back to School Smile Tips for Your Family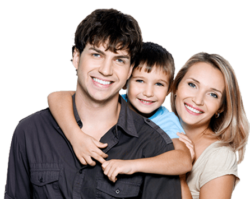 Now that August is upon us, the start of the school year will be here before you know it. The question is: will your family be ready? There is so much that needs to be accomplished, and it's always stressful to make that switch over from a laid-back summer mindset to one that suits the more rigid demands and scheduling of the academic year. But with all that you have going on, you may not be thinking about a dental exam and professional teeth cleaning. That's why we are reminding you why you ought to schedule a preventive dentistry appointment sooner than later. Keep reading, and then be sure to contact us to get your family back in for your regular dental care at our Plano, TX dentist's office.
Smiling Through the Chaos
Here's why it is important to come see us before the school year gets underway:
Nothing makes you feel more confident than knowing you have a fresh mouth, nice breath, and clean, beautiful smile. Shouldn't your child be able to feel that way?
Plus, the health of your mouth is connected to the total health of your body. By making sure that your child's teeth and gums are in tip-top shape, you might just be saving them from other bodily troubles along the way.
Finally, if your child is at an age where they are transitioning from baby teeth to adult teeth, it is crucial that we are around to watch for any emerging causes for concern. And to steer you toward something like braces if it becomes necessary.
It All Starts at Home (But It Doesn't End There)
Here's what you need to be doing in-between preventive dentistry visits to 1st In Smiles:
Everyone in your household should be brushing their teeth for at least two minutes, twice each day. Our friends at the ADA recommend that everyone floss just before the final brushing of the day. If you want to go the extra mile, you can find an age-appropriate mouthwash to rinse with as well.
Home hygiene is a big deal, but it's not all that is required if you want to keep your child smiling through every stage of life. Regular dental appointments (every 3-6 months) are a must as well. That's because we'll be able to eradicate all the dangerous food particles and plaque that linger even after your best efforts with a brush and with dental floss. Additionally, we'll be able to screen for gum disease, oral cancer, and so forth. And we can offer extra prevention in the form of fluoride treatments and dental sealants, for anyone that's interested!
Make Your Back to School Appointment Now
We hope that you like what we had to say about planning for preventive dentistry and a successful school year. So, don't delay, make your next dental appointment at our Plano, TX dentist's office today. All you have to do is contact us online to get started. We'll take care of the rest! Dr. Barfield will get you and each member of your family smiling BIG again!