Skip to Content
At 1st in Smiles, You Can See a Periodontist if Needed (Video)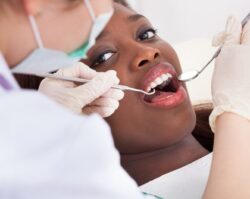 Gum disease requires different methods of treatment, depending on the degree of infection in your gums. In its earliest stages, a simple dental cleaning will eliminate the disease. In its later stage, a surgical treatment may be required. That's why we work with a periodontist (a specialist in treating gum disease), who sees patients in our Plano office one day a week.
Dr. Barfield and our team can perform nonsurgical gum disease treatment, a deep-cleaning procedure called scaling and root planing. It eliminates the bacteria that causes the disease and makes it harder for bacteria to accumulate in the area between your teeth and gums.
If you need more advanced treatment, we'll arrange for you to see our periodontist partner, who usually sees patients in our office on Saturdays. As Dr. Barfield mentions in our video, she can provide surgical procedures if needed. If your gums have receded, we can also restore your gums' healthy appearance with a gum graft.
If you suspect you may have gum disease, call 1st in Smiles ASAP at 972-380-8105.