Skip to Content
All on 4: The Solution for Missing Teeth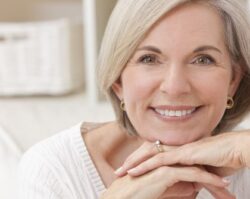 If you're living without most of your teeth, you know what a hassle that can be. Most people who are missing teeth are reluctant to smile or to laugh out loud. Food choices can be severely restricted, and eating can be an ordeal rather than a pleasure. If you have dentures, you've probably experienced the awkwardness of feeling them slip and slide around in your mouth.
At 1st In Smiles in Plano, TX, we want everyone to laugh and smile freely, and to eat without discomfort. That's why we're proud to offer our All on 4 implants procedure to give you teeth that look great and function just like your natural teeth!
About All on 4 Implants
Dental implants have revolutionized the replacement of missing teeth. Dental implants are small metal posts made of titanium. These extremely strong posts are inserted into the bone beneath missing teeth. The bone fuses to the implants and holds them just as strongly as natural tooth roots.
In the All on 4 procedure, four dental implants support a full arch of replacement teeth. The restoration is firmly secured to the implants and absolutely will not slip or slide around. Your new teeth fit, feel, and function just like your natural teeth. You can smile, laugh, and speak with confidence.
You can also eat the foods you love. Dental implants return nearly 100 percent of your chewing power.
Who Can Benefit From All on 4?
The thickness and strength of underlying bone are a prime consideration for dental implants. Chewing puts tremendous pressure on the bone. If your bone isn't strong enough to support traditional implants, bone grafting can be performed to strengthen the bone. That's an additional procedure and expense.
If you've been told that your bone won't support traditional implants, All on 4 might be a great option for you. The key to the procedure is to slant the implants in the back. This increases the support for those implants and keeps the restoration firmly supported.
People who have been told that they don't have enough quality bone for traditional implants are often excellent candidates for All on 4. Usually, no bone grafting is needed, so you can get your beautiful new teeth with just one procedure.
Don't Choose Just Any Dentist
The All on 4 implant method is a specialized procedure that requires specialized training and experience. You can count on 1st In Smiles to place and restore your implants flawlessly and to make sure your implants function perfectly for a long, long time.
You don't have to live with the embarrassment and inconvenience of missing teeth. Count on everyone at 1st In Smiles to welcome you warmly and to focus only on getting you the results you love. And if you're one of the more than 130 million people in this country who have dental anxiety, we can help through our dental sedation options.
If you're interesting in learning whether All on 4 dental implants are the right option for you, give us a call today at 972-380-8105. if All on 4 implants sound like they can restore your smile. You can also use our convenient online form to ask for more information on implant options.