Skip to Content
All-On-4 Dental Implants vs. Dentures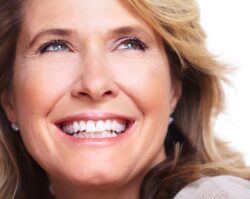 Are you missing all or most of your teeth, but the idea of traditional dentures scares you? Perhaps you're worried about your dentures slipping while at social gatherings. Or maybe you just dislike the thought of denture adhesive.
Whatever the reason, you should consider a revolutionary teeth replacement solution called All-On-4® dental implants from 1st In Smiles!
This treatment allows you to enjoy the security of dental implants without the chair time and expense that would be required if you wanted to replace every single missing tooth with a dental implant and crown.
This minimally invasive procedure will help restore your smile, your dental function, and your confidence! If you're tired of living with a mouthful of missing teeth, read on for more information about All-On-4 dental implants.
Then, give our Plano, TX office a call at 972-380-8105 to schedule a consultation!
Dental Implants vs. Dentures
Let's start with the basics. When you lose a tooth, you lose both the visible part of the tooth (called the crown) and the root of the tooth, which is the part of the tooth that connects to the jawbone and keeps your tooth in place.
Some teeth replacement options, such as dentures, only replace the crown of the tooth. This does improve your dental function and the appearance of your smile, but not quite as well as dental implants can.
That's because dental implants are artificial tooth roots made of titanium or another biocompatible metal. When you have one placed, it's inserted into the jawbone. In time, the bone begins to heal around the dental implant — just as it would support a natural tooth.
Dental implants are topped with a custom abutment, or connector piece, which holds a dental restoration in place. Dental implants are commonly restored with a dental crown (a single-tooth prosthetic), but dental implants can also anchor dental bridges if you have a series of missing teeth you want to replace.
What Is All-On-4 Dental Implants?
Think for a moment about the ways you could use dental implants if you're missing an entire upper or lower set of teeth. You could theoretically replace every single tooth with a dental implant and a dental crown, but most likely, this option would be cost-prohibitive and require a lot of chair time and recovery time.
But in recent years, dentists have found that you can anchor an entire upper or lower set of artificial teeth using as few as four dental implants. This cuts down on chair time, makes for a quicker recovery, and is cost-efficient!
When you trust 1st In Smile with placing your All-On-4 dental implants, we'll gently and precisely place two dental implants vertically in the front of your mouth and two at angles in the back of your mouth. This placement of dental implants in the back of the mouth will help you avoid needing a bone graft procedure to support the dental implants.
Then, we'll restore the dental implants with a full dental arch prosthesis. It's that simple! You'll enjoy a brand new smile in no time.
How Will All-On-4 Dental Implants Improve My Quality of Life?
If you're missing most or all of your teeth, chewing can become challenging and even painful. Plus, smiling can be embarrassing when you have no pearly whites to show off. Simply replacing those teeth will improve your dental function and your self-esteem!
But when you replace your teeth with All-On-4 dental implants, you'll experience a greater sense of security than any denture can offer. With All-On-4 dental implants, only your dentist will be able to remove the prosthetic. You'll never have to worry about whether your artificial teeth will slip when you cough or laugh, as you might with traditional dentures.
Plus, dental implants are a breeze to take care of. They act and feel like natural teeth, and you care for them as if they were real teeth! Simply brush your teeth twice a day for two minutes each time. It's also important to visit your dentist for routine checkups and cleanings.
With proper care, dental implants can last a lifetime, so All-On-4 dental implants truly are a long-term investment in your dental health.
How Do I Know Whether I'm a Good Candidate for All-On-4 Dental Implants?
There's only one way to know for sure: consult with the experts at 1st In Smiles! We'll review your dental and medical histories before treatment. We want to make sure All-On-4 dental implants are the right teeth replacement solution for you before the work begins.
If you're not a good candidate for All-On-4, we can help you find another teeth replacement solution. We want to make sure you get great results!
If you're ready to experience the boost of confidence that comes with All-On-4 dental implants, give us a call at 972-380-8105 to schedule a consultation! You can also request an appointment by filling out our convenient online form.